A new map of Tesla's upcoming Supercharger stations has been released by the California-based EV giant. The updated map shows, several new planned stations, as well removing some, with updated timelines.
Tesla currently operates two different charging networks: The Supercharger network and the Destination network. The Destination network aims to give owners access to charging for a few hours or overnight when arriving at hotels, restaurants, and shopping centers across the country. The Supercharger network offers fast-charging stations located along major highways for trips consisting of more long-distance driving. You can also find stations inside several cities areas as many city dwelling EV owners don't have the space to allow for a home charging station.  
Tesla recently announced the deployment of its 20,000th charger in its Supercharging network. The Supercharger network is one of the company's central differential values in the face of a competition that is increasingly tightening.
Even more recently, the last day of 2020 to be exact, Tesla opened its largest station to date beating the company's previous 56 stall station record in Firebaugh, CA. The new 72-stall station is located in Shanghai, China.
Now, annual updates to Tesla's Supercharger maps show current locations as well as planned locations. Some previously planned locations have been removed and some new stations have been added in the process. In addition, the timeline of upcoming stations has been updated as well. It appears that the automaker is planning to add stations in key markets where EV popularity is growing at an exciting rate (i.e. California, Northeast China, and Europe). Gray dots represent stations that are planned and red are currently operational stations: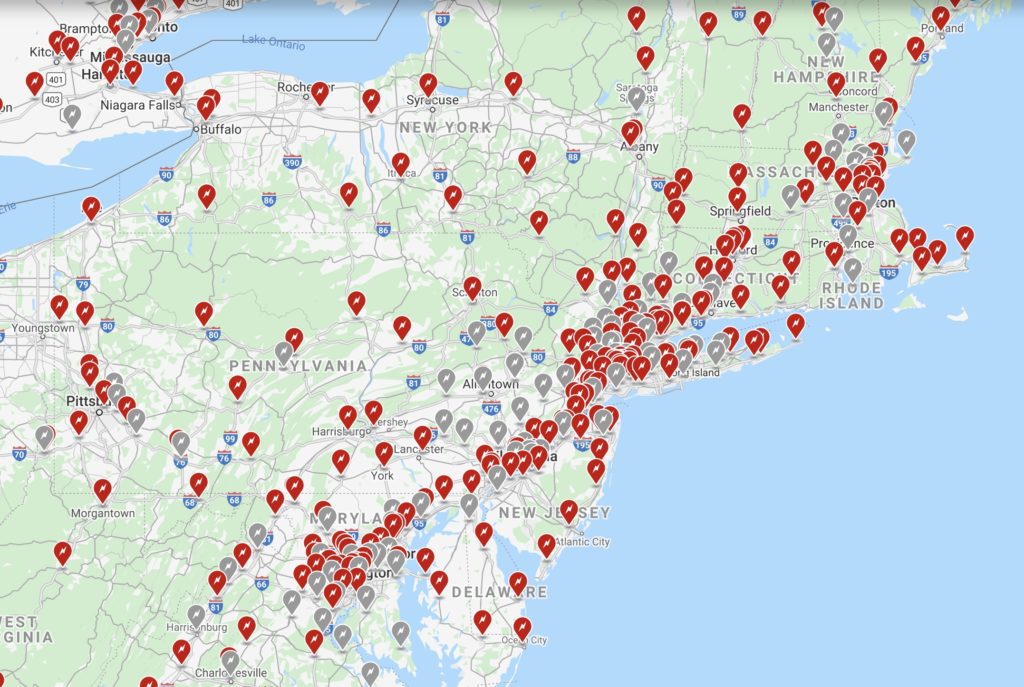 Tesla added several new planned Supercharger stations in Quebec as well as Montreal and Quebec City. Furthermore, Tesla will create a new traveling route all the way to the Abitibi region. Tesla also added an upcoming Supercharger in La Tuque, thus allowing people to travel to Lac Saint-Jean through La Mauricie:
Tesla also provides a rough timeline of Q3 2021 when you click on a location pin. You may want to check back every couple month though as the automaker said current timelines will be updated quarterly. However, Tesla did not provide timelines for some new market expansions, but new potential Supercharger locations are listed on the updated map. Check out all of Tesla's Supercharger locations, currently operational and planned, in the full map below: