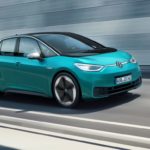 The German automaker Volkswagen, just revealed the production model of the new electric ID. 3 at the Frankfurt Motor Show. They are...
The carmaker Ford just posted on its website media center a new session called "How Far Will Ford's All-Electric SUV Take You?"
The new electric crossover vehicle by Renault surprised the public with its low price. It will start selling first in China with...
The CEO of Tesla, Elon Musk, tweeted about its new vehicle the Model S, and a feature of the car that is...
The Next Future is aiming to solve urban mobility one pod at time.As an architect and urban...