New reports suggest that Tesla is working with unknown third-parties to deploy a "Megacharger" network where Tesla Semi electric trucks can charge.
In 2017 Tesla unveiled its electric Semi along with its plan to deploy "Megachargers." The ambitious plan was to deploy a more powerful version of its Supercharger network that could handle the task of charger the company's electric Semi trucks. Tesla's goal was to create a new charging station that is capable of adding 400 miles of range in 30 minutes, all with low electricity rates at the station. Fast forward to current day where we have yet see any of these "Megachargers"
Currently Tesla Semi electric truck prototypes are able to travel by using Tesla's Supercharger stations to charge, thanks to a device that connects to multiple Supercharger stalls at once. However, this is not a sustainable option and with production expected to start next year, a better solution is definitely in order.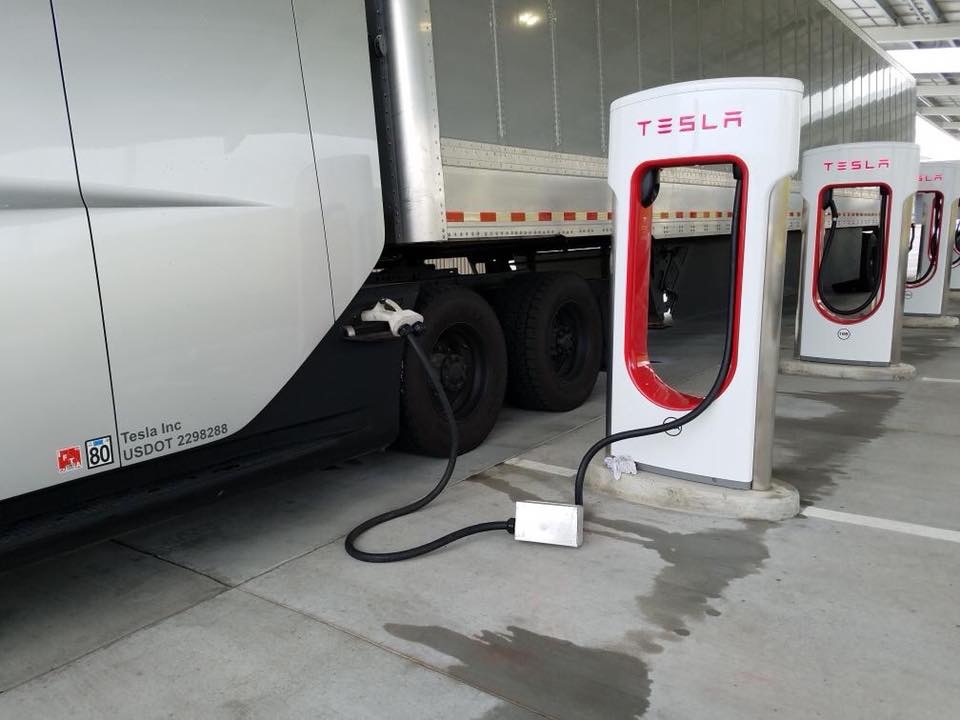 Tesla's President of Automotive and the head of the Tesla Semi program, Jerome Guillen, said during a conference call yesterday, "We continue the development of the Semi. And in particular, Megachargers, we realized that the 350-kW or so that we are looking for cars is not going to be enough for Semi. So we're looking for something much more powerful than that, that can achieve essentially charging the Semi during a break, between your driving time so that you can drive until the next break. So there is no usable or efficient time wasted for charging the Semi."
During the call, Guillen mentioned Tesla working with other parties in order to provide a solution: "We're working with other parties to make sure that there is a standard infrastructure that will be able to be deployed for all customers. Yes. That's probably all I can say at this point. Just we're not working in isolation. We have to invent it because it doesn't exist. But we're trying to invent something that could be helpful for everybody"
Although the statements were vague, they did confirm Tesla is working towards deploying a "Megacharger" type solution in collaboration with some third parties.