Tesla has released its financial results for the third quarter of 2020, far exceeding the main market analysts' expectations. While Wall Street experts had expected revenue of $8.2 billion and earnings of $0.55 per share, the firm has finally announced $8.7 billion in revenue and earnings of $0.76 per share.
This is the fifth consecutive quarter in which the North American firm has made profits, something that has resulted in a rebound in the company's shares. Net benefits have been 809 million dollars, although it should be noted that 397 million dollars came from the sale of emission credits.
"The third quarter of 2020 was a record quarter on many levels. We generated more than 1.9 billion free cash flow during the last four quarters while spending 2.4 billion on increasing our production capacity, service centers, Supercharger stations, and other investments. […] Our GAAP operating margin reached 9.2%."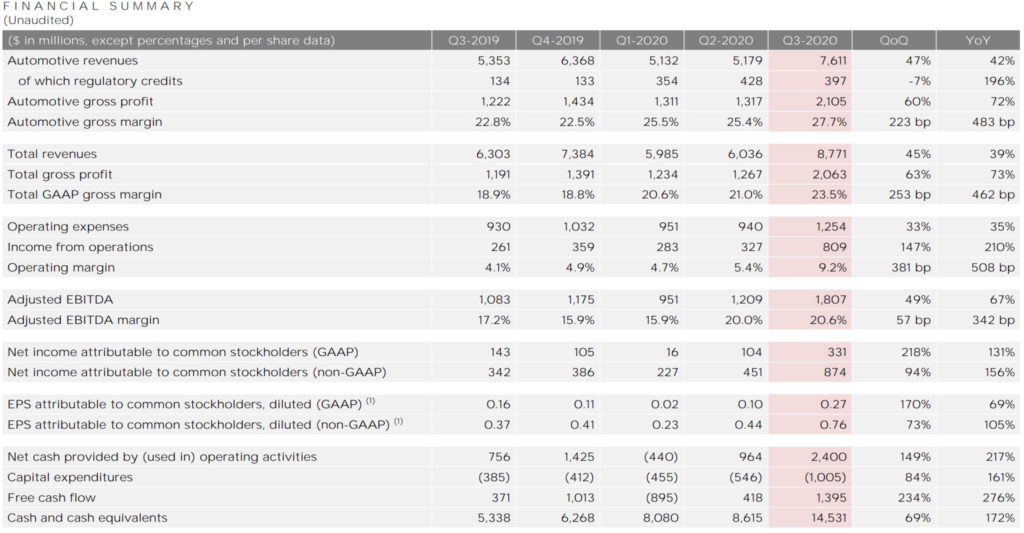 Currently, Tesla has cash of $14.5 billion, while its operating margin over the last year has been 6.3%. "For the last twelve months, we achieved an operating margin of 6.3%. We expect our operating margin to continue to grow over time, eventually reaching industry-leading levels, with capacity expansion plans underway."
During the third quarter of 2020, the company produced a total of 145,036 vehicles, of which 16,992 units corresponded to the Model S and Model X, while the remaining 128,044 units were Model 3 and Model Y. Deliveries for their part remained in 139,300 cars, with 15,200 Model S and Model X and 124,100 Model 3 and Model Y.
The company's goal is to finish the year with a total of 500,000 units produced, a very significant figure if we take into account that in March 2020, the firm announced the manufacture of its 1 millionth car, showing the exponential growth of the production capacity of the North American brand.