GM officially launched its all-electric "supertruck" in October of last year. The GMC Hummer EV is to come with a starting price tag of $80,000 and offers up to 350 miles of range.
To achieve this type of range in this size of vehicle, The GMC Hummer EV will use GM's new Ultium battery and drivetrain technology. It has impressed many since its unveiling and even has Lebron James calling it a "beast" of a truck.
GM plans to deliver the first and most expensive version of the new electric truck, the Edition 1, by the end of the year. The Edition 1 Hummer EV is the first available version of the new EV however, it sold out within an hour of taking reservations. Regardless, we aren't sure the exact number that GM is planning on producing.
According to the automaker production will start off slow but they are expecting to begin production of the base version in 2024.
The GMC Hummer EV Edition 1 will cost you a pretty penny with a starting price of $112,595. However, GM apparently reserved the very first production V0001 unit for an auction that took place over the weekend. A woman whose name hasn't been disclosed paid $2.5 million to get the V0001 2022 GMC HUMMER EV Edition 1. All of the proceeds from the auction will go to the Tunnel to Towers Foundation.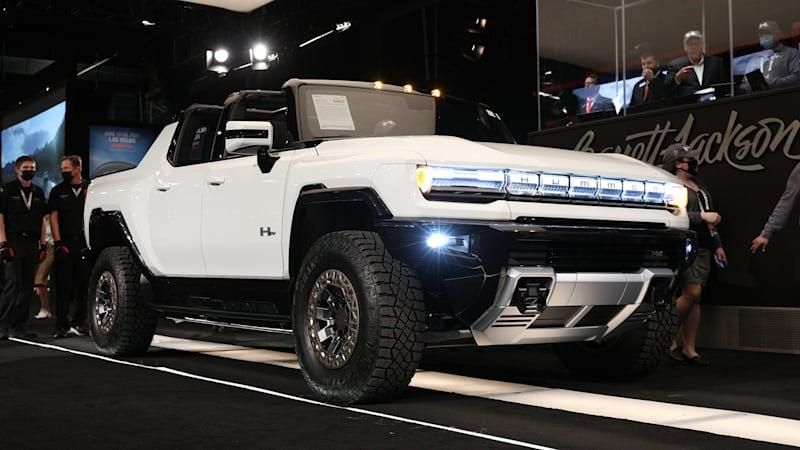 The proceeds from the auction go towards helping vetarans, Gold Star families, and the families of first responders that lost their lives in the line of duty: "Established to honor the memory of Sept. 11 first-responder Stephen Siller, the foundation builds mortgage-free, accessible smart homes for the most catastrophically-injured veterans and provides mortgage-free homes for Gold Star families and the families of first responders killed in the line of duty."
Chairman and CEO of the Tunnel to Towers Foundation, Frank Siller, commented on the fundraise: "One-hundred percent of the hammer price from this auction will resonate across America. This donation from the HUMMER EV Edition 1 will help build homes for our catastrophically-injured veterans to give them their independence and a better quality of life."
Currently, GM is still expected to deliver the first Edition 1 units by the end of this year. As mentioned above, it is expected to come with a single charge range of over 350 miles an is able to charge at a capacity of 350 kW.
Now, we will just have to see which automaker will win the race to bring the first all-electric pickup truck to market, Right now it looks like things are neck and neck between the GMC Hummer EV, Tesla's Cybertruck, and Rivian's R1T.