Tesla leasees received an email regarding a new leasing experience which can be managed through their Tesla accounts. Tesla Owners can essentially manage their entire ownership on Tesla's website using the Tesla Account portal and now leasees will be able to do the same.
Following the arrival of the Model S to market, The California-based company launched a direct lease program. Tesla later expanded the direct lease program to its other electric vehicles.
Now, Tesla is introducing a new leasing experience: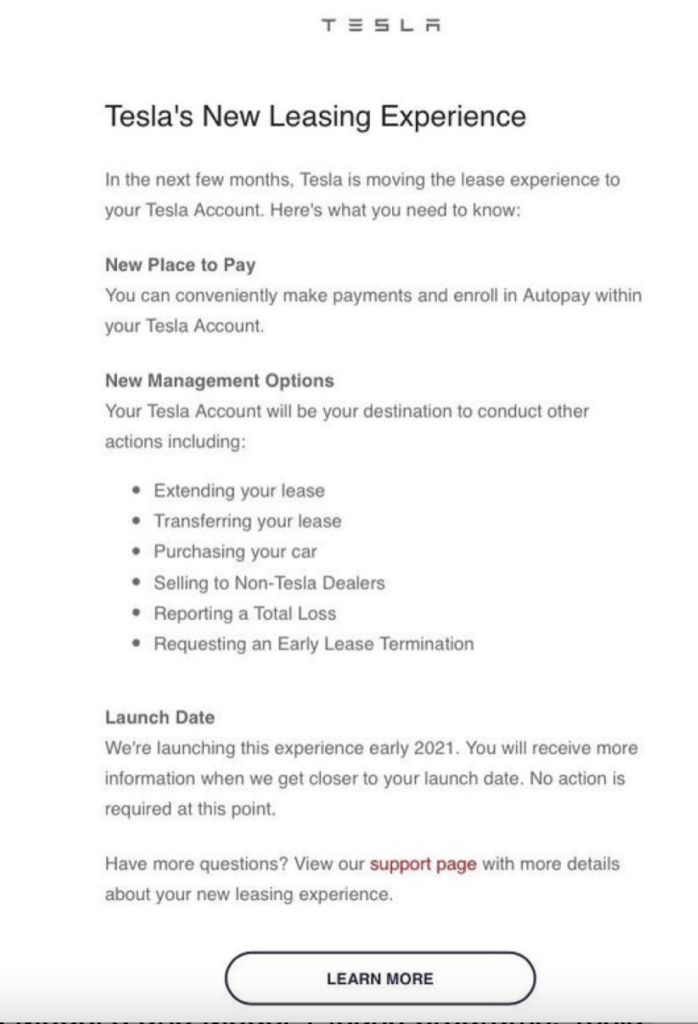 According to the automaker, the new online portal to manage leases will be available in early 2021: "Starting early 2021, Tesla is moving the lease experience to your Tesla Account. Learn more about what to expect before and after your planned transition date."
Tesla noted the changes that come with the new experience on its new support page:
-View invoices
-View current balance
-View Finance Agreement
-Manage direct debit enrollment
-Make one-time payment
-Request termination quote
-Request lease extension
-Request lease transfer
-Request lease return
After launching Model 3 and Model Y lease programs, Tesla originally told leasees they would not be able to purchase their vehicles at the end of their lease. Instead, they would be taken back and added to the companies growing fleet of robotaxis. Now, it appears they will be given the option, through the new portal, to purchase their vehicle at the end out their lease. 
Check out the entire email below: