An owner of a Tesla Model S crashed his EV into two police vehicles in Nash County, North Carolina. The man was watching a movie while relying 100 percent on Autopilot to navigate the vehicle safely.
The reporter noted that no car on the road can currently drive itself, yet that is how some people are treating their driver assistance programs regardless of the numerous accidents that have been reported while drivers do so. The Model S crashed into both an occupied sheriff's cruiser as well as an occupied highway patrol car. Thankfully no ones was injured during the incident.
As we mentioned this isn't the first time this type of incident has taken place. Just a couple months ago, the driver of a Model 3 crashed into a flipped truck on a highway in Taiwan while putting their faith fully in Tesla's Autopilot. In another accident that could have been avoided, thankfully again, the crash only resulted in material damage. In addition, last month Germany banned Tesla from using the term 'Autopilot' saying that it "suggests that their vehicles are technically able to drive completely autonomously." Some have followed suite demanding that Tesla change the system's name for something less misleading.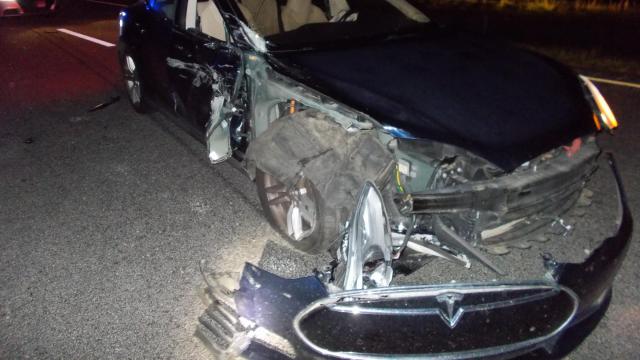 Tesla CEO, Elon Musk may not be innocent, as far as talking up the capabilities of Tesla's FSD Autopilot. Musk recently tweeted "I drive the bleeding edge alpha build in my car personally. Almost at zero interventions between home & work. Limited public release in 6 to 10 weeks" when responding to a question about the company's FSD rewrite. Of course, he wasn't suggesting owners test it out with no interventions but it probably didn't do much deterring. As far as the FSD rewrite, Musk tweeted "The FSD improvement will come as a quantum leap, because it's a fundamental architectural rewrite." 
As many negative things that have been said about Tesla's Autopilot, it has also been the main factor in avoiding many crashes that the human drivers didn't have enough time to react to. However, the Autopilot system, despite its advanced development, is not autonomous and needs constant supervision by the driver.
See the full report in the video, uploaded to the CBS 17 Youtube channel, below: