Yesterday, California-based startup Rivian announced its service plan and it looks like it is tearing a page out of Tesla's book.
Just three months before Rivian is slated to begin customer delivers of its highly anticipated R1T all-electric pickup truck, the automaker announced its plan for charging Adventure network. Rivian's approach to charging and infrastructure is strikingly reminiscent of Tesla's Supercharging Network. One of Tesla main advantages in the EV industry. Now it appears that the novice startup is following Tesla lead down another avenue. 
In addition to Tesla's Supercharging Network, the EV giant's ability to operate without the need to rely on third-party franchise dealers for service is also a key factor in the its success. Tesla decided instead to develop an entire service network that provide mobile technician and service scheduling when needed through its mobile app.
With the success of Tesla and its unconventional proccess, Rivian clearly took note and has announced similar plans of it own that include the following:
-Mobile service vans that come to you
-Remote diagnostics using their vehicle's connectivity
-Company-owned service centers
-App-based scheduling
According to the company: "Our fleet of mobile service vans can perform a majority of vehicle care needs at your home, place of work, or wherever your vehicle might be. In many instances, you don't even have to be present, so you can carry on with your day. Mobile service is available for all Rivian owners anywhere in the US and Canada. As we expand into other markets, our suite of Rivian vehicle care capabilities, including mobile service, will continue to be a key component of our strategy. "
The company also elaborated on its remote diagnostic capacity: "Rivian Remote Care enables us to perform comprehensive diagnostics from afar through our connected vehicle platform. Most issues can be identified proactively, thanks to our suite of onboard sensors and associated predictive algorithms. We can often notify you before you even sense a problem."
Rivian also explained the convenience that comes along with app-based scheduling: "Rivian's Service Platform has been developed in-house as a single end-to-end experience. Your vehicle, app and the Rivian Service Team — all connected through the Rivian Cloud — work together seamlessly to make servicing your vehicle simple, convenient, and transparent."
Furthermore, Rivian plans to have 40 Rivian Service Centers in the US and Canada within the coming year for more extensive service.
Check out a sneak peak of the Rivian app in the image below: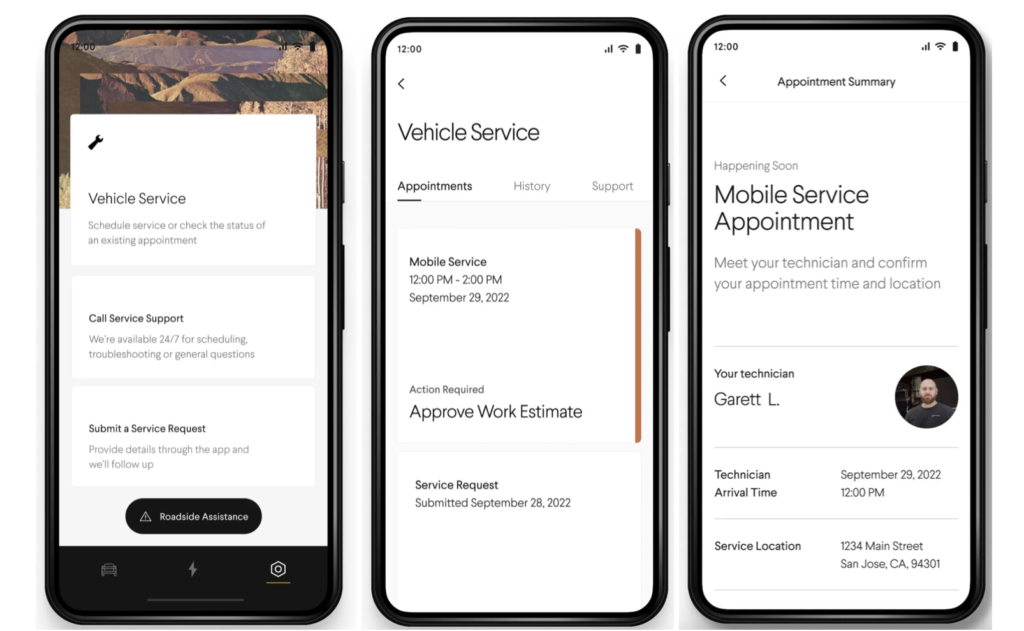 Tesla and Rivian are currently neck deep in a lawsuit after Tesla filed a lawsuit against the new startup claiming acquired trade secrets from former Tesla employees. More recently, a judge ruled in favor of the EV giant giving them the go ahead to move forward with the lawsuit against Rivian.
Considering the amount of former Tesla employees that have joined Rivian's team, it isn't exactly shocking that the startup's approach to service is reminiscent of Tesla. 
Former Tesla employees that are currently working on Rivian's service team include, but are not limited to: Noe Mejia, former Tesla service team member and director of Tesla's service operations, Savayia Z. Bero, former strategic business operations manager of Worldwide Mobile Service at Tesla, Andrew Homer, former staff program manager of Mobile Service Operations at Tesla, and Nina Bruno, former senior manager of Worldwide Mobile Service and Fleet Operations at Tesla.