Rivian has revealed more information about its "Rivian Adventure Network" including a map of planned stations, its wall charger, and payment options.
Rivian announced that it was working on its own EV charging network called the Rivian Adventure Network last year. The California-based startup also caused a little ruckus when they starting hiring former Tesla employees who worked on Tesla's Supercharger network to work on the project.
Now, the automaker is giving us a look at what the project entails as it has unveiled basically its whole charging strategy. A strategy that reminds us a lot of Tesla, which isn't a bad thing.
Rivian didn't not want to be at the mercy of third-party networks, much like Tesla, who invested in its own Supercharger network of fast-charging stations which includes destination level 2 charging stations, and home charging using the Tesla Wall Connector.
Now, Rivian has presented a similar strategy to that of the EV giant's: Rivian Adventure Network, Rivian Waypoints, and Rivian Wall Charger
The Rivian Adventure Network will consist of fast-charging stations that will allow Rivian owners to take long-distance trips without the worry of charging restrictions, including some remote locations for those who enjoy true "adventures."
In an announcement yesterday, Rivian confirmed that it is planning over 600 stations with more than 3,500 chargers: "The Rivian Adventure Network will grow to more than 3,500 fast chargers at over 600 sites by the end of 2023. Each site will have multiple chargers and will be conveniently located on highways and main roads, often by cafes and shops. These DC fast chargers will be for Rivian owners only, with details on pricing and associated programs coming soon."
The automaker also confirmed that stations can only be accessed by Rivian owners and released a map of planned locations: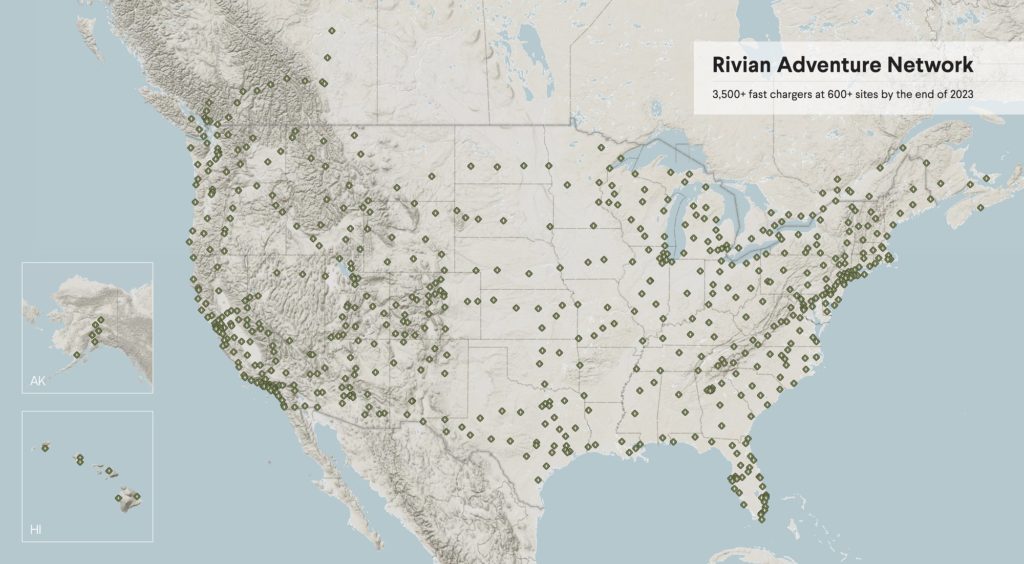 In addition, Rivian confirmed the stations will be capable of "plug and charge." A feature that enable owners to just plug their vehicle in and it will start charging, leaving the payment to be processed automatically.
Furthermore, Rivian confirmed that the stations will initially be equipped with 200 kW charge rate instead of the previously disclosed 300 kW. The automaker said a 300 kW charge rate will come at a later date.
The icing on the cake is the fact that all the stations will be powered by renewable energy. According to the automaker, the stations will use renewable energy directly where possible and through certificates where it's not.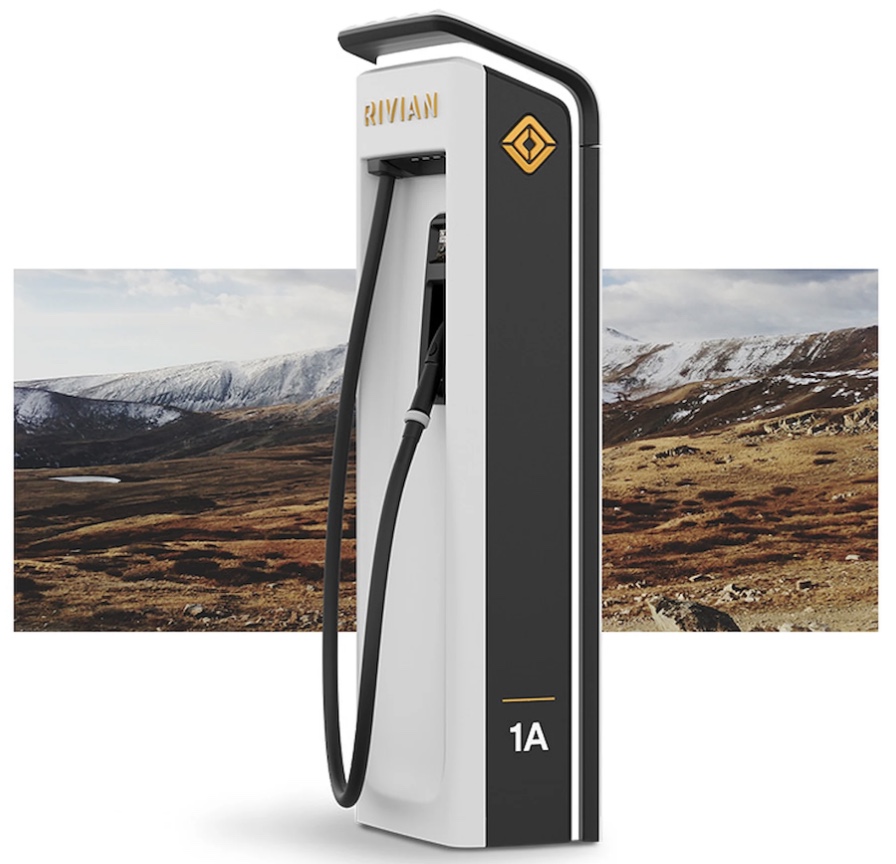 When a third-party charging station is more convenient, have no fear as Rivian uses the CCS and J1772 standards, meaning owners can use most third-party networks.
Furthermore, Rivian is introducing its Rivian Waypoints, which are level 2 chargers for hotels restaurants, parks, etc when time isn't an issue: "We are also installing thousands of Rivian Waypoint chargers across the US and Canada. Found at shopping centers, restaurants, hotels, campsites, parks and many other locations, these Level 2 AC chargers deliver up to 25 miles of range every hour for the R1T and R1S, letting you grab extra miles while you're out having fun."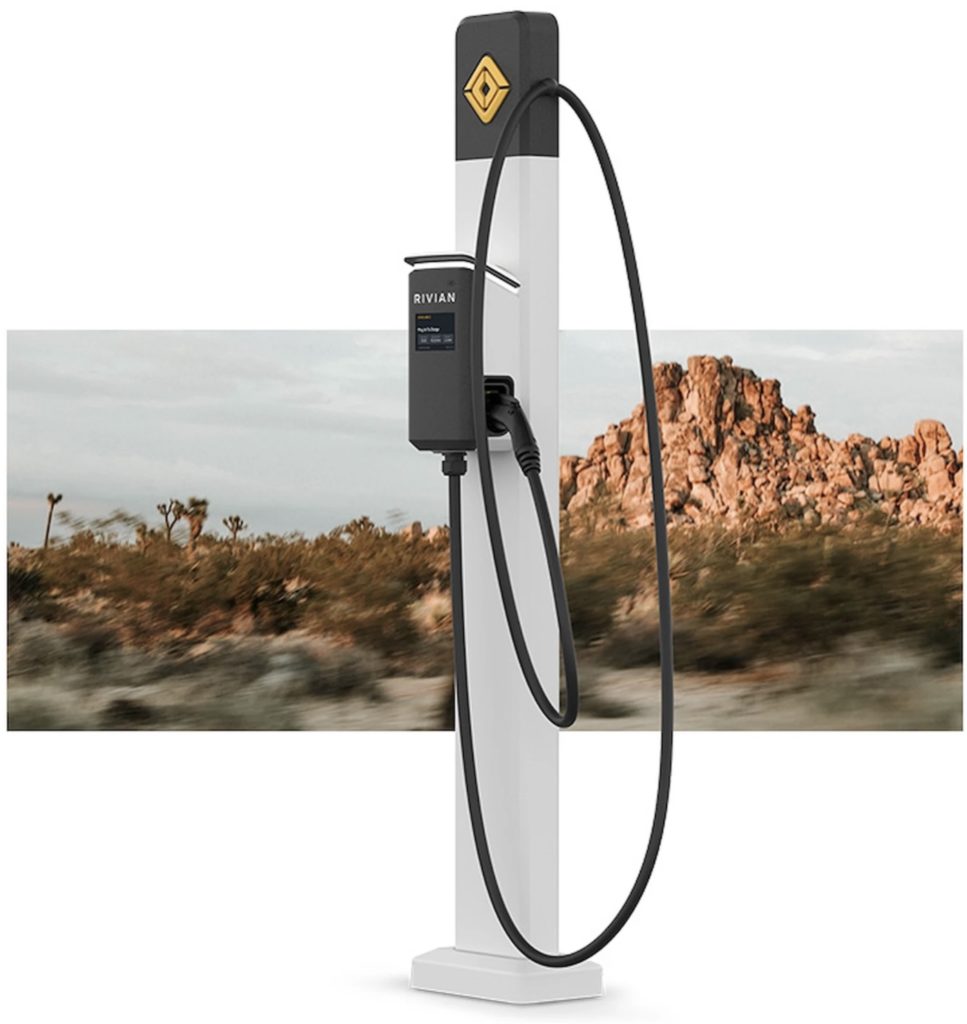 Rivian Waypoint chargers are level 2 chargers that have a 11.5 kW charge rate and also offer the convenience of the plug and charge feature. They also use a standard J1772 connector, but Rivian didn't specify whether other EV owners will be able to take advantage of it.
In regards to home charging, when purchasing a Rivian vehicle you will also receive its own portable charger. However, Rivian is also offering a wall connector. It too uses the standard J1772 plug and is compatible with other EV models. The weatherproof charger is capable of charging up to 25 miles of range per hour using its 11.5 kW charging speed. It also is capable of OTA updates thanks to its WiFi connectivity, and comes with a 5 year warranty.
No price has been confirmed for Rivian's wall connector, but once the automaker starts deliveries its first units, we should learn more about the device. The first units of Rivian's R1T are expected to start reaching customers in June.