The Volkswagen Group wants to make electric mobility accessible to everyone. For this reason, it recently presented an ambitious, comprehensive strategy that will include the opening of six battery Gigafactories in Europe, the use of a prismatic cell with a standardized design in 80% of its models, and even the development of a new common modular platform: the SSP.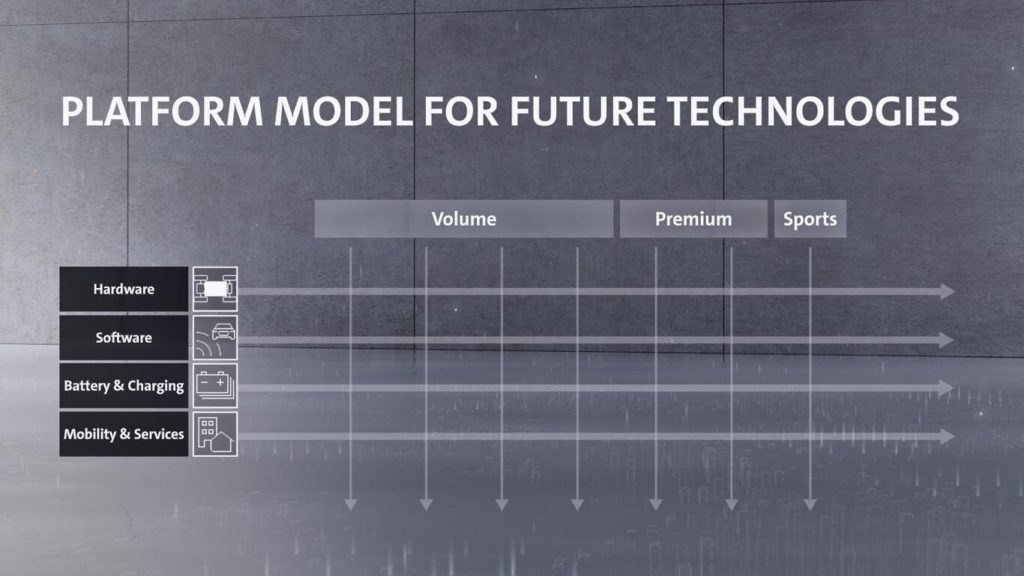 Volkswagen currently has three architectures dedicated to this type of vehicle: the MEB Entry, intended for access vehicles; the MEB, volume models; and PPE, which will be used in premium cars. However, from 2025 all three will be replaced by the new SSP (Scalable Systems Platform) platform.
The use of a common platform in all its electric companies should allow the company a significant reduction in costs; furthermore, thanks to its flexibility, the SSP should be used in numerous categories, from utility vehicles (segment B) to representation saloons (segment F). On the other hand, it can house up to four engines, allowing front, rear, and total wheel drive configurations.
However, Albrecht Reimold (a member of the Porsche board responsible for production and logistics) stated during a recent interview that the sports car manufacturer will not use the new SSP platform and will continue to use the PPE platform, which has been in development since 2018 According to the executive, the SSP would seek to replace the MEB, not the PPE.
"It would be too expensive to develop a single platform that covers all market segments, including those with very high technical requirements." Michael Steiner (member of the Porsche board responsible for research and development) points out that the PPE will still integrate some software solutions used in the SSP.
While the MEB uses the VW.OS 1.1 operating system, the PPE will release VW.OS 1.2 next year. In 2025 the VW.OS 2.0 will arrive from the hand of the SSP, which will also be integrated into the future evolutions of the PPE. The electronics and control software are expected to be standardized across all Volkswagen Group models, which will make it possible to simplify the development of its cars.