Jeep is today one of the most influential brands in the Stellantis group, both in terms of sales volume and profit margin. The American manufacturer, specializing in SUVs and off-road vehicles, is carrying out an ambitious electrification plan that has begun with the launch of the Renegade 4xe and Compass 4xe, the plug-in hybrid versions of two of its most popular models.
However, this is only the beginning, and even the legendary Wrangler will be electrified to adapt to the new reality of the market. Thus, the famous off-roader will enjoy two plug-in variants: the Wrangler 4xe plug-in hybrid and the 100% electric Wrangler Magneto. The first of them was presented a few months ago, while the second will be released later this month.
The Jeep Wrangler 4xe combines a 2.0 turbocharged gasoline engine with two electric drives through an eight-speed TorqueFlite automatic transmission. The first electrical unit acts as a starter/generator and is connected by a belt to the crankshaft pulley. In contrast, the second is coupled to the transmission itself, which maintains a classic gearbox to improve field performance.
The powertrain announces a power of 375 hp and a torque of 637 Nm. The battery, for its part, has 17 kWh of capacity. Jeep promises that thanks to the isolation of the different electrical systems, the Wrangler 4xe maintains its range brothers' wading capacity (76 centimeters). There are three driving modes available:
Hybrid (automatic).
Electric (electric mode is forced).
eSave (thermal mode is forced).
Although Jeep estimated that its model would homologate a range in electric mode of about 25 miles EPA, finally, the official figure has remained at 21 miles EPA. Although its performance is not particularly good for a plug-in hybrid, we must not lose sight that it is a vehicle with little aerodynamics and wheels that are especially focused on off-road use roads.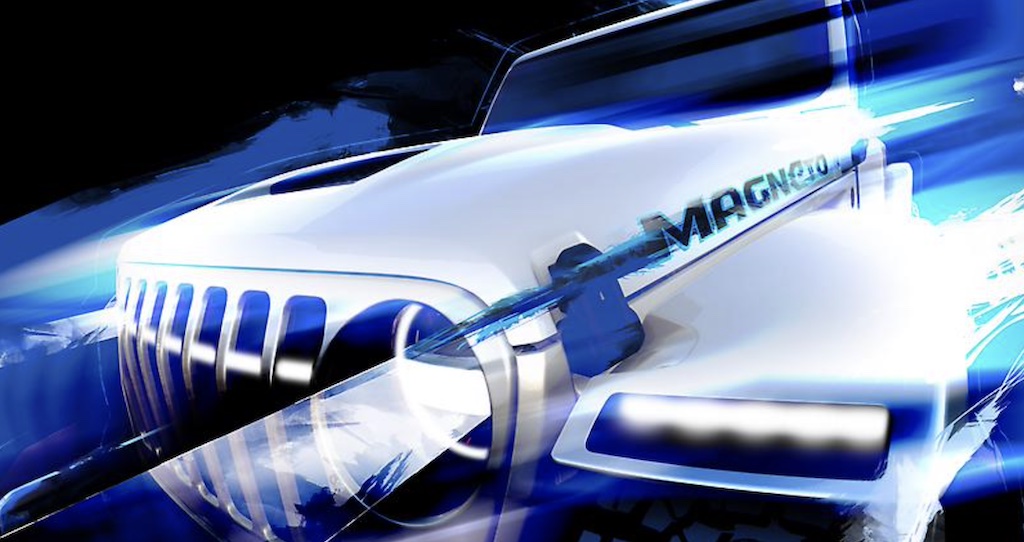 The Wrangler 4xe's biggest rival will be the Wrangler Magneto itself, which may be able to fully exploit the benefits of a 100% electric configuration in off-road driving. Furthermore, we cannot lose sight of the fact that a significant percentage of Wrangler buyers use it as a conventional vehicle, more attracted by its aesthetics than by its off-road capabilities, a niche in which the Wrangler Magneto is likely to achieve great success.