Tesla CEO Elon Musk has confirmed rumors that while Tesla was struggling with Model S production in 2013, he tried to sell the company to Apple. Apple CEO Tim Cook apparently couldn't make time in his busy schedule to meet with Musk. A decision that Cook has most likely has come to regret as Musk said he was willing to sell for just a 1/10th its current value.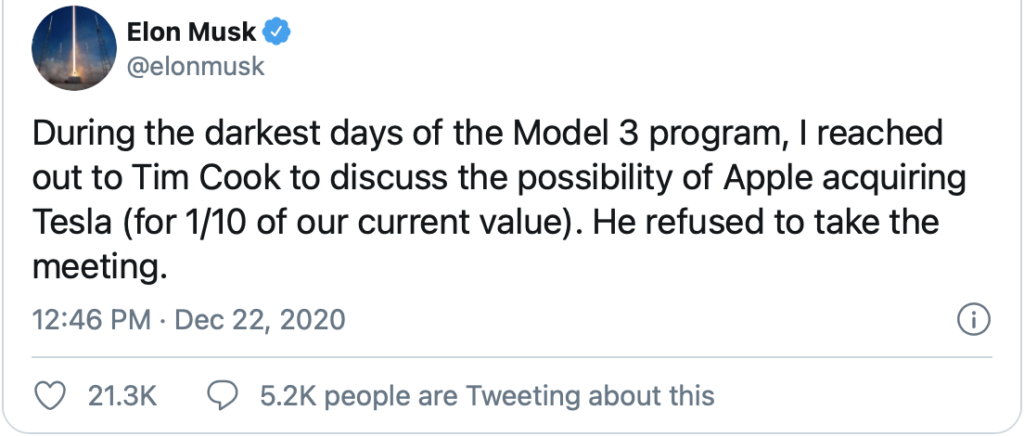 Looking at Tesla's current value, we're talking roughly $60 billion for 1/10th. A humble admission from the CEO. However, in 2018, Tesla was having a rough time trying to start mass-manufacturing of its Model 3 sedans when Musk publicly admitted to sleeping at the factory trying to solve the problem and claimed the car business was "hell."
Additionally, Musk commented on the Reuters report regarding Apple developing lithium iron phosphate batteries for use in vehicles:
Musk doesn't seem too concerned as Tesla already uses lithium iron phosphate batteries and introduced a new structural battery pack design during its Battery Day event in September.
The rumors of Apple launching its own autonomous electric car in 2024 surfaced on Tuesday. Anonymous sources familiar with the matter claim that Apple plans to complete its own vehicle, otherwise known as "Project Titan," and will sell it to consumers in 2024.