Read The Full Article On: Investorplace
Investors Need To Resist SOLO Stock's Underdog Appeal
Shares of ElectraMeccanica Vehicles (NASDAQ: SOLO) have skyrocketed more than 216 percent in 2020, as investors bet SOLO stock becomes the next TESLA(NASDAQ:TSLA).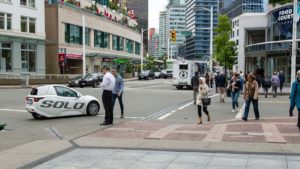 Source: Luis War / Shutterstock.com
For now, given its massive debt and uncertain future, the money-losing Canadian company's three-wheeled electric vehicles aren't going to cause Elon Musk, or anyone else for that matter, to lose any sleep anytime soon.
SOLO stock undoubtedly is an appealing story to investors—it is an underdog battling against much larger competitors. I have no idea whether the company will beat the formidable odds against it or wind up as roadkill on the Information Superhighway.
With a manufacturer's suggested retail price of $18,500, ElectraMeccanica aims to for the SOLO to appeal to consumers who can't afford Musk's stylish EVs, which are more than double the price but want a green vehicle.
Success, though, isn't a given. Moreover, as EVs become more mainstream, the incumbent automakers' competition will intensify, adding to the many challenges that lie ahead for ElectraMeccanica. That's why I am taking a pass on SOLO stock for now.
Analysts Expectations and SOLO Stock
SOLO stock got much of its juice in 2020 from its most recent earnings release in November. The company's results were not great though they were better than the three analysts who officially follow Solo stock expected. ElectraMeccanica's quarterly net loss widened to $11.69 million compared to a $4.16 million net loss a year earlier. Revenue surged to $235,000.
A few things come to mind. First, beating earnings expectations is less impressive when expectations are low. That is especially the case with SOLO stock since its thinly traded and not followed closely by Wall Street analysts.
SOLO stock also is a favorite among short-sellers who own more than 11 percent of the company's float. That makes the shares even more unpredictable because its in a bubble along with other EV stocks that will burst at some point.
ElectraMeccanica has a long way to go before its vehicles appear on American highways, if that ever happens.
As of Sept. 30, the company's accumulated deficit was nearly $92 million. The company also added a recent SEC filing that the operating losses would "increase substantially in 2020 and thereafter" and continue for several years. ElectraMeccanica had about $101 million in cash and cash equivalents as of Sept. 30, which isn't enough capital to hire enough workers and raw materials to begin commercial production of the SOLO.
Capital Needs
Earlier this month, the company issued a prospectus to sell as much as $200 million in securities without a financial institution's backing.
According to InvestorPlace contributor Mark R. Hake, the deal will dilute existing owners of SOLO stock by 36 percent. He estimates that ElectroMeccanica needs to raise between $75 million and $150 million in additional capital.
Moreover, ElectraMeccanica admitted in the prospectus that its auditors have raised "substantial doubt about our ability to continue as a going concern." Once a company reaches the "going concern" stage, the road back to solvency becomes more challenging, if not impossible.
This designation is particularly troublesome for a company like ElectraMeccanica that will need to spend lots of money to produce a complex, expensive product like an electric vehicle.
ElectraMeccanica has made six "production" SOLOs and 124 "pre-production" models produced in Canada and at a contract manufacturer in China.
The company is in the process of picking a site for its manufacturing plant in the U.S. I realize that everyone has to start somewhere and am not oblivious to ElectaMeccanica and Tesla. Investors have also taken a shine to Chinese electric vehicle maker NIO(NASDAQ:NIO), whose stock has surged more than 1,000 percent this year.
Track Record
Elon Musk, though, had a successful track record before he ran Tesla as one of the founders of PayPal (NASDAQ:PYPL). He also has a massive headstart over SOLO.
TESLA expects to deliver more than 500,000 vehicles in 2020 when the worldwide economy cratered because of the Coronavirus Pandemic. Musk's company also has posted five straight profitable quarters on a GAAP basis. Imagine what TESLA can do in a world not dealing with the worst public health crisis in more than a century.
To be sure, TSLA stock trades at an unfathomable multiple of 1,287, which is way too expensive and risky for conservative investors like me.
However, if I had to pick an electric vehicle maker stock to buy on a pullback, TSLA stock is better than SOLO. TSLA stock has jumped more than 600 percent this year, so finding an entry point is tricky. The same is true for NIO, which also may be a better choice.
NIO looks intriguing because of the Chinese company's ties to the government in the world's most populous country. The Chinese authorities have ambitious plans to promote green cars to address the country's serious air pollution problem.
Earlier this year, they arranged a bailout of NIO that prevented the company from going bankrupt. Beijing will reap propaganda benefits from backing a local company instead of SOLO or TSLA, headquartered in the U.S.  Like with TSLA, figuring out an entry point with NIO is a challenge.  That's why I am staying clear of all EV stocks.