These are good times for Rivian. This year, the American startup will launch its first two production cars, the R1T pick-up, and the R1S SUV. It currently has a significant contract with its main investor, Amazon, to supply 100,000 electric delivery vans throughout this decade.
As if this were not enough, the young company is already looking for a location to build an electric car factory in Europe. In this market, it plans to launch a model with more compact dimensions than its previous proposals. Nor can we forget its collaboration agreement with the giant Ford for the joint development of electrical technology.
Rivian's plans don't stop there. It is currently hiring engineers to work on the development of solid-state batteries, considered by many to be the auto industry's future.
What advantages do solid electrolyte batteries offer over other solutions? Its main strength is an energy density higher than the technologies used today in the industry, which should create electric vehicles with autonomies much higher than the current ones, ending with one of its main disadvantages compared to thermal models.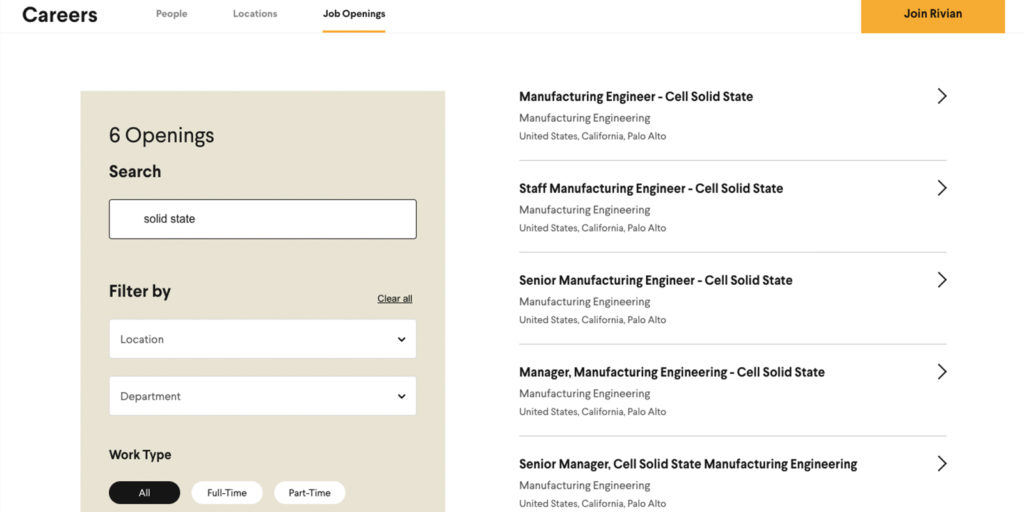 This is not the only virtue of the solid-state, which promises faster charges and higher safety rates (these types of batteries are not flammable). At the moment, the most advanced company in the development of this type of cell is QuantumScape, a startup backed by the Volkswagen Group that has managed to correct two of the main problems of this technology: its limited useful life and its high operating temperature.
However, other large companies such as Toyota also want to commercialize these batteries in the coming years, so Rivian will have to face stiff competition. Will they join the solid-state race too late? However, it's possible; investing in the development of these types of cells should give the company a significant competitive advantage over rivals such as Lucid.
All in all, we must not lose sight of the fact that Rivian is not the first startup to try to carry out a movement of this type: Fisker spent years investing in the development of its solid-state batteries, an effort that was ultimately in vain, as the manufacturer announced just a few days ago that it was abandoning this technology to focus on the production of electric cars with Magna and Foxconn.