The new all-electric Skoda Enyaq iV crossover SUV has officially begun series production at the Czech automobile manufacturer's main plant in Mladá Boleslav in Czech Republic.
The Enyaq iV is Skoda's first electric SUV and is the first Škoda vehicle to utilize the Volkswagen Group MEB platform. It will be available in rear-wheel drive or all-wheel drive, with three different battery capacities and five different performance versions. The base model will be equipped with a 55 kWh battery pack and a 109 kW electric motor.
ŠKODA invested €32 million into the Mladá Boleslav plant to handle the production of MQB- and MEB-based models. The electric SUV is sharing a production line with the Octavia and Karoq models.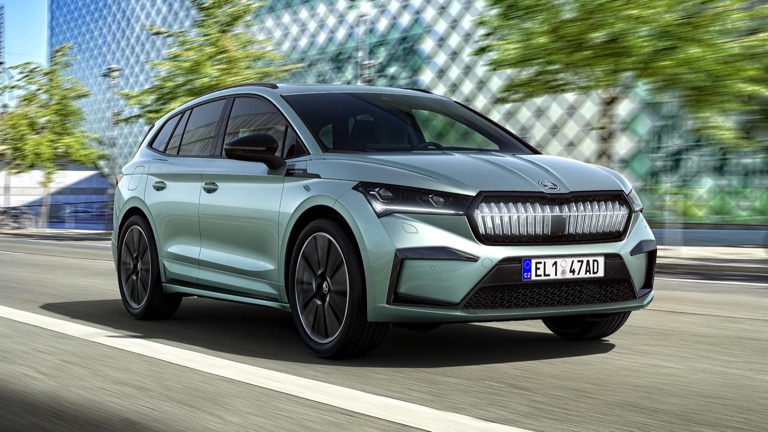 Skoda estimated that in the future, up to 350 Enyaq iV to be produced daily at its main plant for a total of 11,500 units monthly.
ŠKODA AUTO Board Member for Production and Logistics, Michael Oeljeklaus commented on the company's announcement:
"The ENYAQ iV is ŠKODA's first series-production model that was designed as an all-electric vehicle from the outset. This means our new SUV also places entirely different demands on manufacturing processes and production sequences than models with combustion engines. This is also reflected in the extensive preparation and conversion measures that we have been implementing at our main plant in Mladá Boleslav since last summer. Today's start of production of the ŠKODA ENYAQ iV on the only production line in the Group for vehicles based on the MEB and MQB is a very special moment for our entire team."
In the UK, the entry-level Skoda Enyaq iV will be called the '60' and will come with a 62 kWh battery, 180hp motor, and a single charge driving range of about 242 miles. The Enyaq iV '80' will also be available with a 82 kWh battery, 204hp, and an estimated single charge driving range of 316 miles.