ŠKODA has unveiled its new electric SUV, the ENYAQ iV.  It will be Based on Volkswagen's MEB platform making it one of the first vehicles to take advantage of it. After teasing the vehicles for months, we are finally able to see the production version.
CEO of ŠKODA, Thomas Schäfer, stated "The launch of the ENYAQ iV sees the start of a new era for ŠKODA. This is our first all-electric car to be based on the MEB platform. By launching this model, we are making E-Mobility Simply Clever – with long ranges, quick charging, ease of operation and affordable prices. The ENYAQ iV is made in ŠKODA's heartland, Mladá Boleslav, making our main plant the only production facility for MEB-based vehicles in Europe outside Germany. This is a great testament to ŠKODA's expertise and I would like to thank the entire team that got the ENYAQ iV rolling. It's a great car and I'm really proud of the team."
The ENYAQ iV will come with three different battery options allowing ranges from 211 miles to 317 miles on the WLTP standard, along with drivetrain options from 109 to 225 kW. In addition, several different charging capacities will be available: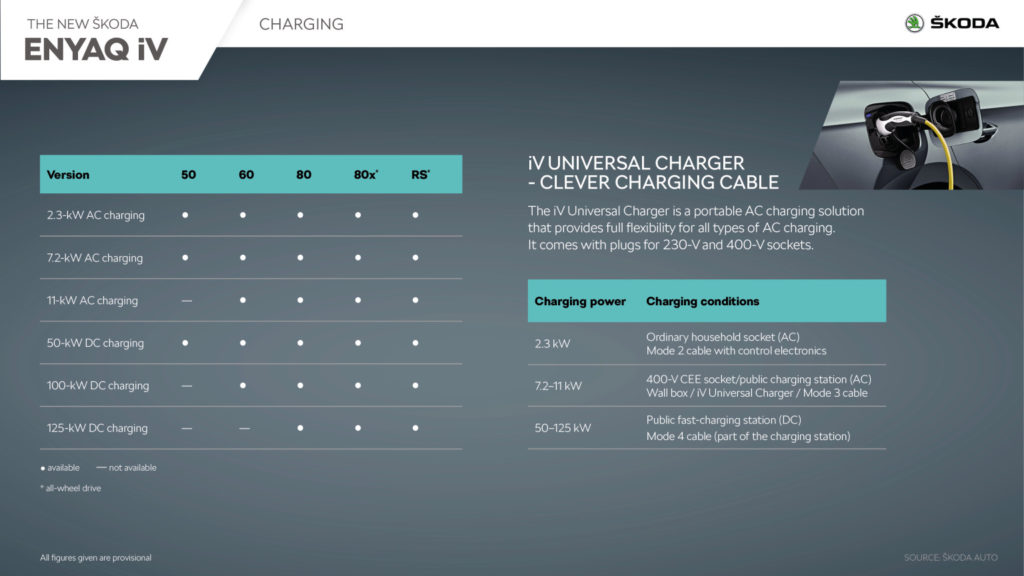 There has been no official release regarding price but it is estimated to be less than $42,000. Deliveries for the ŠKODA ENYAQ iV Founders Edition are expected to start in spring 2021.