Volkswagen will face investments in the next five years to accelerate the transition to the electric car. A massive project in which 35 million will be allocated to the development of the electric car program.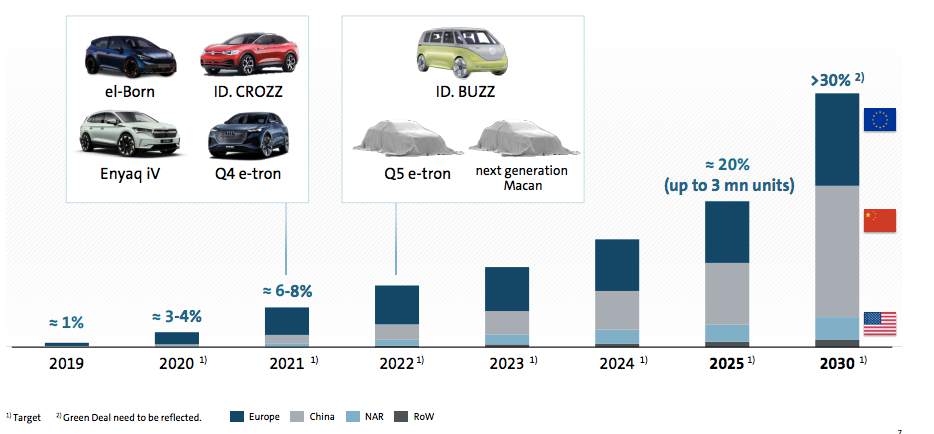 In 2021, the Volkswagen Group's electric car offering will grow with up to four new proposals. These are the Audi Q4, Skoda Enyaq IV, Cupra el-Born, and the Volkswagen ID.4. A family that will join the ID.3 will mean reaching a sales share with electric cars of between 6 and 8%.
These four proposals will share the MEB platform and mechanical configurations, with some variations in terms of design, finishes, and equipment, which may be extended to the mechanical part with more capable and more expensive proposals.
Thus, in just two years, the Volkswagen Group's offer of electric cars will be made up of compact, ID.3 and el-Born, compact SUVs, Audi Q4 E-Tron, Volkswagen ID.4 and Skoda Enyaq, Premium SUV, Porsche Macan, and Audi Q5 E-Tron, saloons, Porsche Taycan and Audi E-Tron GT, as well as a station wagon, the ID Buzz or ID.7.
In my opinion, this is an economic and technological bet that will allow them to maintain aspects such as income and benefits in the medium term, but in exchange for a small reduction in the short term. And it is that after several years with net profit figures above 7%, which the pandemic will impact this year, Volkswagen hopes to recover a margin of between 6 and 7% in 2022 and raise it to between 7 and 8 % by 2025.
A dynamic that results from the transformation of the market and demand and the pressure of regulations on polluting emissions will be one of the keys to the speed of change of the world's leading manufacturer in 2019.