The Mustang Mach-E and Model Y are the most ambitious bets of Ford and Tesla in the electric car sector. While the first, representative of the traditional automobile industry, has put all the meat on the grill to create a model capable of ousting Tesla, the most preeminent of the new startups that is challenging manufacturers "of a lifetime", it is clear that the Model Y will become the most successful car in its range.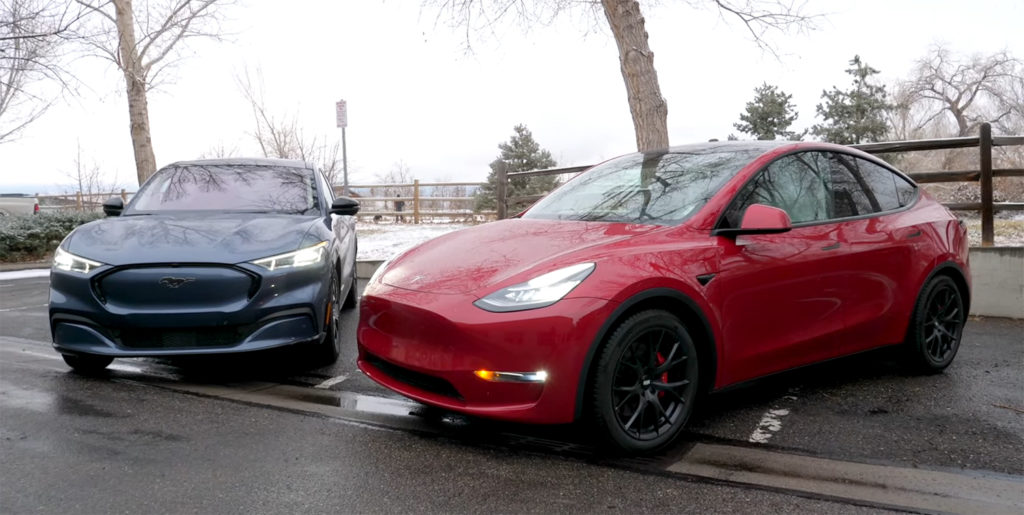 Both vehicles are in the SUV family and move in a very similar price range. The Mustang Mach-E is currently available in five versions in its home market, while the Model Y has a choice of three variants. However, it is not ruled out that in the future, both families will be enriched with new models (Ford is developing a Shelby Mustang Mach-E, and Tesla could launch a Model Y Long Range RWD in the future).
The Ford has two batteries, a 75.7 kWh (Standard Range) and a 98.8 kWh (Extended Range). The Standard Range RWD (rear-wheel drive) access variant promises a range of 273 miles EPA. The Extended Range RWD has the greatest autonomy since it manages to homologate 379 miles EPA.
In the Model Y case, the range begins with the newly introduced Standard Range RWD (rear-wheel drive), which homologates a 244 miles EPA solvent. The Long Range Dual Motor (all-wheel drive) variant announces 315 miles EPA, while the top of the range Long Range Dual Motor Performance is limited to 298 miles EPA. Having seen the differences in autonomy between one model and another, how are their rates in the United States?
Ford Mustang Mach-E:
Standard Range RWD: $ 42,895
Standard Range AWD: $ 45,595
Extended Range RWD: $ 49,800
Extended Range AWD: $ 54,700
GT: $ 60,500
Tesla Model Y:
Standard Range RWD: $ 41,990
Long-Range Dual Motor: $ 49,990
Performance: $ 59,990
As can be seen, in equivalent versions (Standard Range RWD/Standard Range RWD, Extended Range AWD/Long Range Dual Motor, GT/Performance), the Tesla is cheaper and offers a bit more range. However, the tables turn when we apply the tax credit of $7,500 granted by the US government (to which Tesla no longer has access) to Ford's rates, becoming noticeably cheaper. However, Tesla continues to have an advantage in the section of autonomy, but in my opinion, I'd pick the Mach E for its look, which would you prefer?