After Nissan announced deliveries of the Ariya wouldn't start until mid-2021 in Japan and other markets wouldn't see units until even later, in an interesting turn of events, we now learning pre-orders will open "later this year."
User Will-Mac at Ariya Forums shared the announcement which was obtained through a direct message on Twitter where Nissan stated they will begin accepting pre-orders before the end of this year. Odds are we won't see any reservation numbers for the electric SUV unless Nissan receives an overwhelming amount.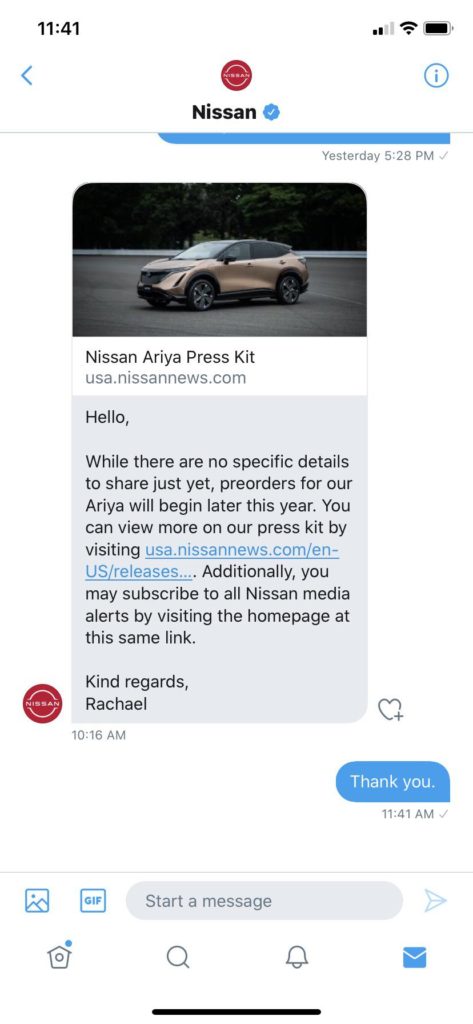 Nissan Leaf fans and potential new customers have been waiting for the Ariya since July 15, most likely because unlike the Leaf, the Ariya is equipped with an air-cooled battery. In addition, the Ariya is a much more attractive vehicle than the five-door hatchback, and has much better estimated range figures.
The Nissan Ariya is going to be produced at the company's Tochigi plant in Japan. According to Marco Fioravanti, vice president of product planning at Nissan Europe, the Tochigi plant has "been totally changed and modernised in order to accept the new platform, which we're launching with the Ariya."
One key thing that still seems to be missing is an official starting price. We've been told that it will come to market with a starting price around $40,000 but an exact amount has yet to be confirmed. Still, with this information we know it will be at least $9,000 more than the Leaf, but Nissan still expects the Ariya to outsell its hallmark into battery-powered cars.