The Out of Spec Reviews channel just did a test with a fast charge in a Mustang Mach-E, starting with a battery charge of 0% in order to find out the recharge time before arriving at 100%.
Thanks to this test, which has been carried out in one of Electrify America's ultra-fast charging stations, those interested in the electric Mustang will be able to see the recharge time in each percentage, both for partial recharges and for a session that takes the maximum the capacity.
For the test, the version with the highest capacity of the Mustang was used, the version with 98.8 kWh of gross capacity, which is about 92 kWh useful, which has arrived at the station with the score at 0%, but as usual it should have some residual autonomy.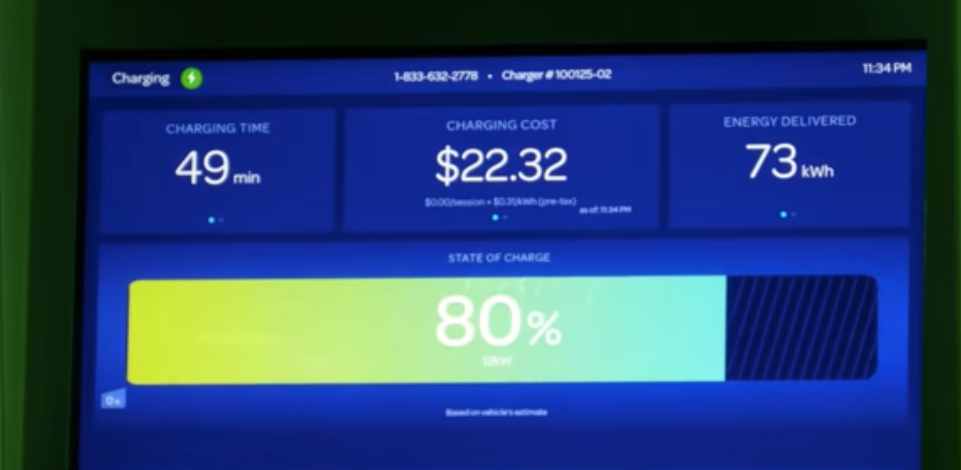 As we can see in the video, the Mach-e recharge starts quite quickly, managing to go from 0% to 20% in 9 minutes. It is undoubtedly a striking fact that illustrates how much electric cars had evolved in the last 5 to 10 years when many models had batteries of just 20 kWh.
For example, the 2015 Nissan LEAF needed 30 minutes to reach 80% of its battery of just 24 gross kWh. A figure that now represents 20% of the battery in the new electric Ford. Yes, we have advanced.
Charging the Mustang has continued and has reached 50% in 27 minutes. The time during which it has managed to recharge a total of 45 kWh with power at this time of 76 kW. Something that indicates that the Mustang's charge curve is quite discreet as the battery capacity level progresses.