One of the main challenges in the expansion of ultra-fast recharging is having an electrical network capable of offering the necessary power without affecting stability. Something that in some places is not possible due to limitations of the web itself. For this, operators such as Shell have launched recharging stations capable of offering powers of 175 kW that are backed by large battery packs.
The first of Shell's stations has been located in the Dutch city of Zaltbommel. They have started up in this first phase of tests two points capable of offering 175 kW of maximum power each.
One of the main differences compared to other similar stations is that it can accommodate two cars simultaneously without dividing the power between them. It achieves this thanks to a large pack of 360 kWh of capacity that acts as a backup.
According to those responsible for the project, the benefit of using the battery begins with the savings of having to update the electrical system to accommodate a high power. An aspect that is not even possible in some places with the already saturated network or in remote areas.
Another aspect where batteries play an important role is in reducing the power contracted for the station. According to Shell, in the case of this station, this could be between 30 and 70 kW. Depending on the demand, this would allow the battery to be recharged between three and four times a day, and all while reducing the operating cost of the station significantly.
But if this were not enough, the company puts on the table another key aspect in the equation. When or where there is demand and the battery is full, the station will be able to export a part of its battery charge to the network using a bidirectional charger. In practice, something that means being able to accumulate energy during the cheapest hours is to sell it in those with the highest demand and cost.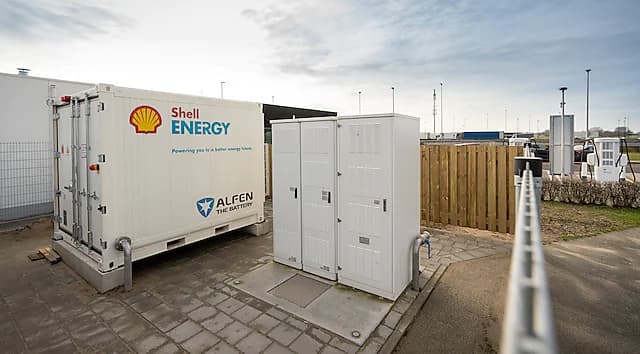 It is no less interesting that with this format, you can maximize the use of renewable energy during recharges by using the station during the hours of highest production to charge its battery.
According to Luitzen Kaspersma, Shell Future Fuels Project Manager: "Electric mobility is important to help meet the growing need for more sustainable transport. Accelerating the adoption of electric vehicles requires an efficient and robust charging network where customers can quickly charge their cars at any time of the day, even during peak hours. We are confident that energy storage will help to achieve that. "