On its IPO, Lucid Motors has prepared a document to present its merger with Churchill Capital Corp IV. In the slides published by the startup, Lucid considers itself a "post-luxury" brand, establishing itself as a competitor to Audi, BMW, and Mercedes-Benz.
Thus, the Californian firm considers that Audi represents technological luxury, BMW sports luxury, and Mercedes-Benz classic luxury. Lucid's "post-luxury" seeks to bring these three concepts together under one package, offering cutting-edge technology, high performance, well-cared finishes, etc. But where is Tesla, Lucid's main rival?
In its documents, Lucid classifies Tesla as an innovative brand, but not a luxurious one. Peter Rawlinson, CEO of the company, believes that vehicles like the Tesla Model S have build quality issues that customers will no longer overlook, as they are not early adopters. For this reason, the first Lucid model, the Air, will have to be on a different level of customer satisfaction.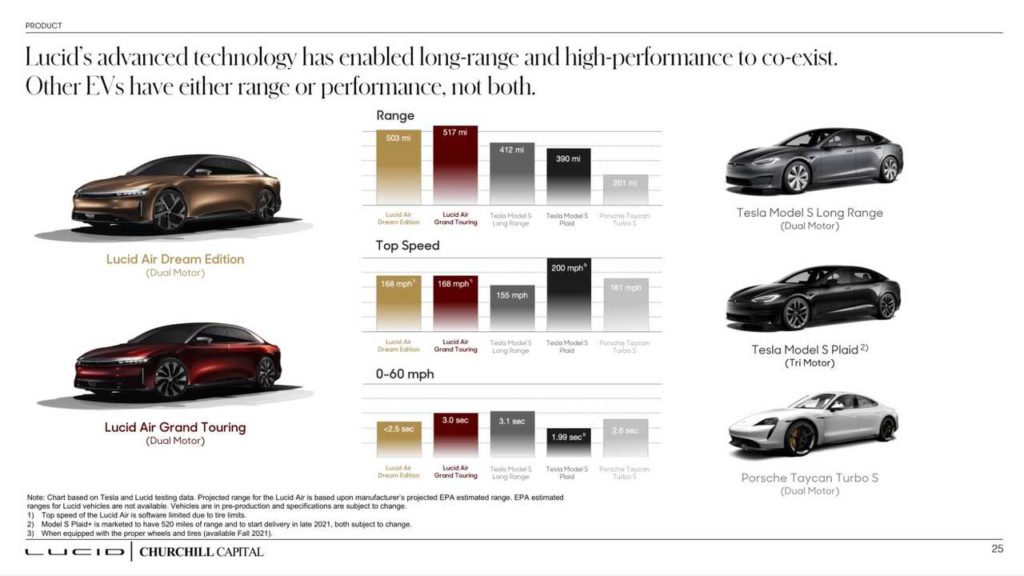 In its presentation, Lucid compares the Air with the Mercedes-Benz S-Class and electric vehicles such as the Porsche Taycan or the Tesla Model S.
Compared to the equivalent Mercedes-Benz S-Class (S450, S560, S63 AMG, S65 AMG), the Lucir Air in all cases wins both for performance and price. However, we must not lose sight that the German firm will launch the EQS this year, an electric car similar in size to the S-Class that will directly rival the Lucid model.
Recently Rawlinson confirmed that after the Air and the Gravity (a luxury SUV that will arrive in 2023), the automaker will launch a more affordable cut model called to rival the Tesla Model 3 (segment D premium), and therefore with the future BMW i4, which will be presented this year. However, some experts believe that the young brand will enter this sector too late.