Although both in terms of performance and technology are still a fully current model, the Tesla Model S is a real veteran: it was launched on the market in 2012, receiving a slight restyling in 2016 that mainly affected its front design. However, the Californian brand is unwilling to let its flagship sedan be surpassed, so for the year 2021, the Model S has undergone a second, much deeper restyling.
The main change is found in the interior, which debuts an entirely new design: the steering wheel acquires a striking "butterfly" shape and includes haptic controls (lights, windshield wipers, turn signals, voice controls …) to replace the classic levers, the instrumentation decreases in size (12.3 inches), the huge touch screen adopts a landscape format (17 inches), a wireless charger for smartphones appears, and the dashboard, center console, and doors receive new chrome and decorative inserts.
The sumptuous center display has "a resolution of 2200 × 1300" and "ultra-bright colors," promising "exceptional responsiveness." On the other hand, Tesla has added a third 8-inch screen for passengers in the second row of seats, which can be used to control certain functions and display the infotainment system.
The updated Model S now also features a new panoramic roof, while the rear seats have a folding center armrest with a second wireless charger. The infotainment system allows you to play video games (the computer offers up to 10 teraflops of processing power) and is compatible with wireless controllers.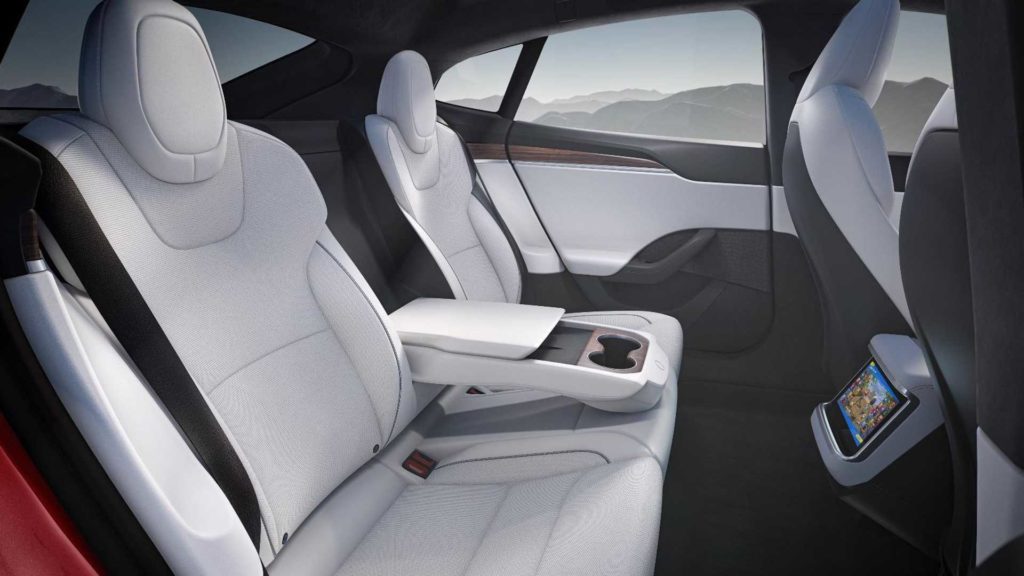 Both the steering wheel and the seats in both rows are heated, while the climate control is tri-zone. The HEPA air filter is maintained, and interesting connectivity functions are added (for example, the premium connectivity package allows, among other things, access to streaming services such as Netflix, Hulu, YouTube, or Twitch).
The new Model S starts at $79,990 for the "Long Range" dual-motor version which gets 412 miles of range. Otherwise, people can spend $119,000 for one with the new, more robust "Plaid" powertrain that goes 390 miles with that sub-2 second 0–60 time. The "Plaid+" version with 520 miles starts at $139,000.