Electric car sales are rampant in some of Europe's main markets. Germany, the most important of them is seeing how the records do not stop increasing month by month thanks to the increase in supply and the powerful public aid. Something that has resulted in a historic November in the sale of pure electric cars.
In total, no less than 28,600 electric cars have been registered in Germany and a growth of 514% compared to the same period last year. Figures that collide with the 3% drop in general car sales.
And in this case, they have not been added as is usually done to plug-in hybrids. We are only talking about battery-electric cars.
Thanks to these figures, the sector has managed to close November with a market share of 9.9%, representing a 1.5% improvement on last October's models. Something that tells us that the trend is still accelerating and where we would need to add the sales figures for plug-in hybrids, which if the October numbers had been repeated would mean that in November, at least 16% of the cars sold have had a recharge socket.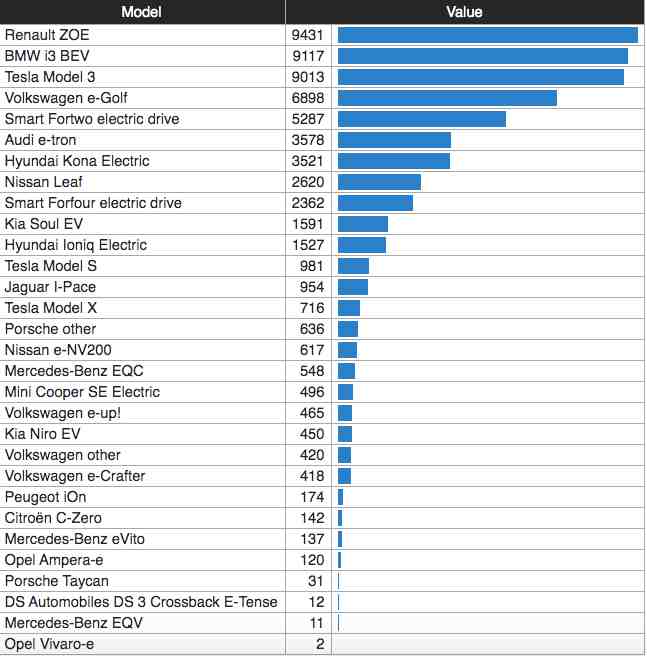 By models, the Renault ZOE has become the main protagonist in Germany. The French electric company has managed to deliver 4,287 units in November, with a cumulative year of 24,962 units. It is followed by the electric Hyundai Kona, with 2,471 units and a cumulative of 11,013 units, and the Volkswagen ID.3 closes the Top 3 with 2,439 units and a cumulative of 6,857 units.
For the rest, also highlight the debut of new proposals that arrive to expand further the offer, with the Renault Twingo ZE, the BMW ix3, which has debuted with 26 registrations, or the new Opel Zafira.
A German market that already has 44 different electric cars and that will configure an offer that will undoubtedly make sales continue to increase, especially considering that already this December delivery of another model will begin to revolutionize the market. The Volkswagen ID.4 has already recorded its first 22 model registrations predictably for showrooms and demonstrations.
Now the question is, once the 10% market share has been reached, how will 2021 go? The situation seems propitious to continue with the positive dynamics since, as we remember, Germany has extended its aid program until 2025.
An ambitious movement that seeks to increase the influence of electric and plug-in hybrids and incidentally reinforce the growing automotive and components industry attracts qualified workforce thus making vehicle production more attractive within its borders.