Mazda's first electric car, the MX-30, is a very personal proposition. The Japanese manufacturer is aware that its customers are looking for something "different" from the industry standard when buying one of its cars. They have wanted to apply this philosophy to the electric SUV, which shows very marked peculiarities.
Despite deriving from the thermal CX-30, Mazda has wanted to give the MX-30 a peculiar body with suicide-opening rear doors, giving it an avant-garde touch for those who seek to prioritize aesthetics over practicality. The interior also receives a particular treatment, with many surfaces covered in cork.
The character of its powertrain is also "very Mazda": According to most reviews, the MX-30 lacks the instant oomph of other electrics, as the brand has electronically modified the response of its 145 hp (107 kW) engine and 271 Nm to remind you of the progressiveness of its naturally aspirated engines.
According to Mazda, the meager range of 125 miles homologated by its first electric car is "more than enough" for the daily trips of the bulk of its customers; However, there have been many Internet users who have criticized both its range and the capacity of its batteries (35.5 kWh) for being too limited.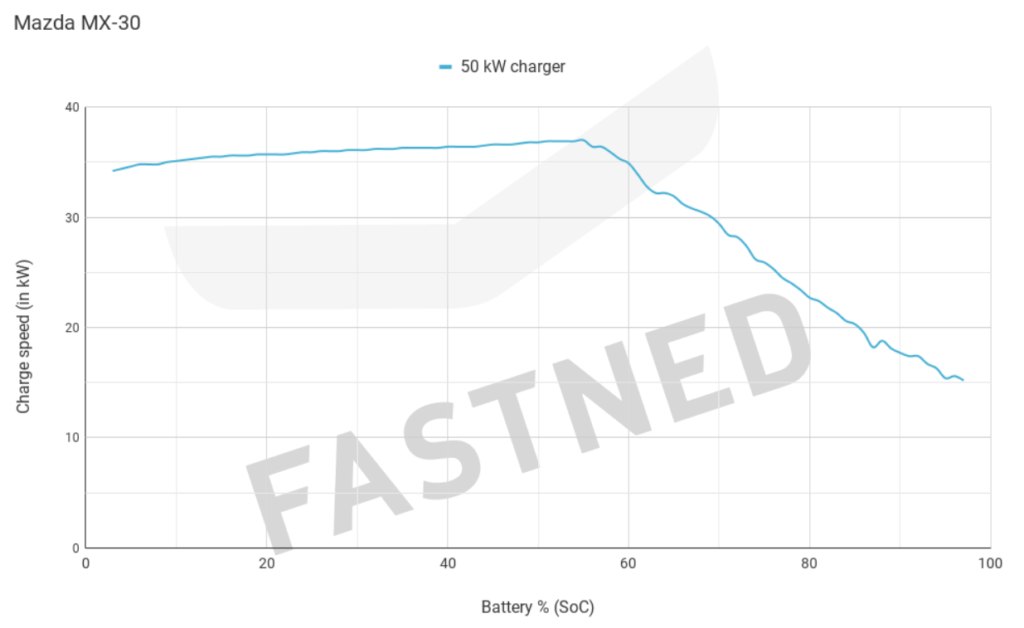 Now, Fastned has tested the model's DC fast charging system in real conditions, revealing a new section in which the Mazda MX-30 sins as conservative: even though on paper the vehicle can reach a maximum of 50 kW of power (recovering 80% of its range in 40 minutes), the reality is far from this figure.
The load curve shows us a peak of 37 kW, remaining more or less stable until around 55%, when it begins to fall, reaching about 22/23 kW at 80%, and ending with 15 kW almost at 100%. This makes the Mazda MX-30 one of the lowest charging power electric cars on the market, below even the 2010 Nissan LEAF 24 kWh, which easily exceeded 40 kW.