The Australian company, LAVO, has officially confirmed the start of sales this coming November of the first residential storage system for companies that will use hydrogen to accumulate energy. The new use of technology explores the many niches where demand has only just begun to expand.
The technology has been developed in collaboration with scientists at the University of New South Wales and uses photovoltaic energy to produce hydrogen through electrolysis. Hydrogen is stored in a metal hydride reservoir and converted back to electricity when needed using a fuel cell.
It is a small wardrobe with 1680mm high, 1240mm wide, 400mm thick, and a weight with a full tank of 324 kilos. A battery with a 40 kWh capacity, according to those responsible, enough for the company to offer between two and four days of autonomy to an average home.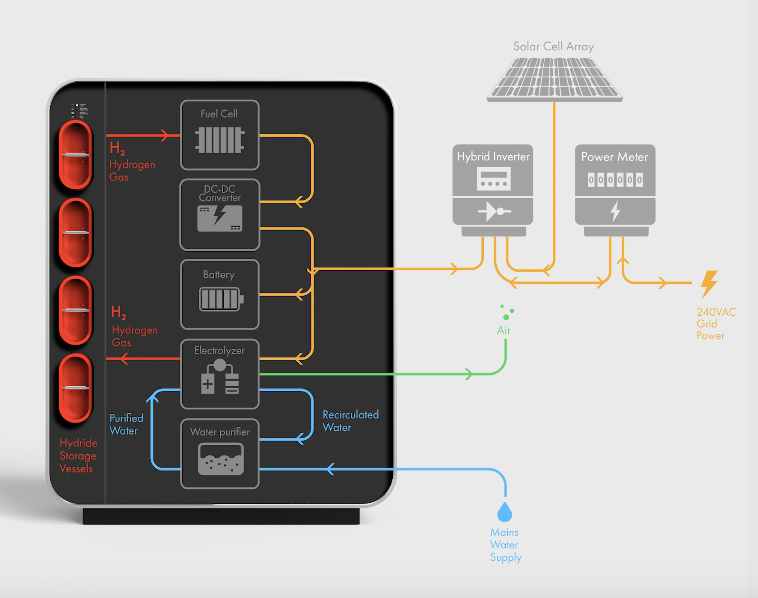 It has a charging and discharging power of 5 kW at 48 V and a 10-year warranty with an estimated useful life of 20,000 cycles.
But unlike lithium battery systems, hydrogen faces some difficulties when it comes to application in residential or small business systems. According to Jake Whitehead, Fellow at the University of Queensland: "Going from laboratory to commercial scale deployment is incredibly difficult. Electrolyzers are very energy-intensive, and many home solar installations may not generate enough electricity to run the system efficiently. "
This means that in addition to having photovoltaic panels to produce hydrogen through electrolysis, a sufficiently strong installed power will be necessary to compensate for solar radiation variability throughout the day and the year's seasons, even the system installation location.
Another challenge they face is LAVO hopes to start sales of some systems in November that will begin their first deliveries in June 2021, which will do so for 34,750 Australian dollars.
An amount that would give us enough for practically three Tesla Powerwalls, with a price of 12,500 Australian dollars per unit. That would offer us the same 40 kWh of capacity and a little more power output with 5 kW nominal and 7 kW peak.
A first attempt that will have to overcome the challenges of lowering costs if it wants to gain a foothold in an increasingly competitive backup battery market thanks to the strong economies of scale that lithium batteries are achieving due to the impetus of the sector of the transport.