One of the most anticipated novelties of the "Tesla Battery Day" was the Model S Plaid presentation, the sportier version of the veteran executive saloon. Finally, the brand has not disappointed and has presented a real beast that will become the fastest production car on the market if it meets the advertised specifications.
Although no technical details have been given regarding its power or the capacity of its batteries, it has been confirmed that it will be able to do the 0 to 60 miles per hour in less than two seconds, with a top speed of 200 mph and a range of more than 520 miles under the realistic American EPA homologation cycle. Plus, it'll cover the quarter-mile in less than nine seconds.
The vehicle will enjoy a powertrain consisting of three electric motors (one on the front axle, two on the rear), which in addition to high power, will provide all-wheel drive. Although Tesla has not confirmed it, numerous rumors indicate that this mechanical set is precisely the same that we will see in the Roadster hypercar.
Tesla has already opened the new model's reservations, which can also be found in the brand's configurator for $139,990 before options. Interestingly, the images on the web show a Model S Plaid devoid of the aerodynamic appendages seen in the prototypes, which leads us to think about a possible optional high-performance pack.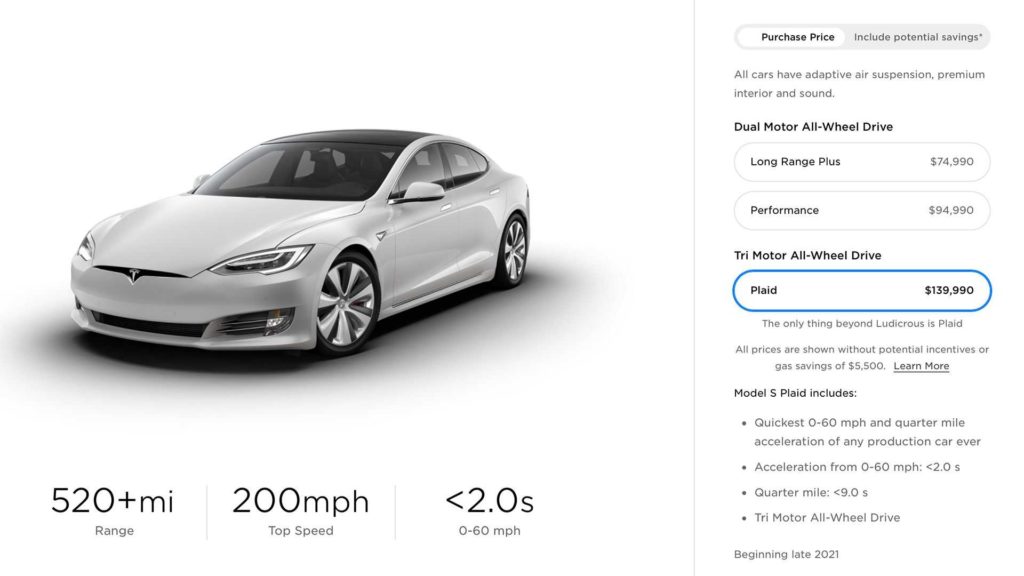 According to Elon Musk, the Model S Plaid was able to do a lap around the Laguna Seca circuit in a time of 1:30, snatching the record from Lucid Air Performance, who stayed at 1:33. On the other hand, we must not lose sight of the fact that the Tesla model will be cheaper than Lucid's (the Air Dream Edition, lower than the Performance, will cost $169,000) and will have more autonomy (the Air Grand Touring will be around 832 km EPA ).
Unfortunately, it was not all good news because, during the presentation, Musk announced that the arrival of the model has finally been delayed until the end of 2021 (originally, its landing was scheduled for 2020). There was also no mention at any time of the Model X Plaid, a model that, although it was announced last year for the moment, continues in the shadows.