The battle to win the most significant number of battery supply contracts for electric cars suffered an unexpected turn last year with the signing of the agreement between Tesla and LG. A move aimed at increasing the pace of deliveries and ensuring the North American brand vehicle production does not slow down after the opening of the Shanghai factory.
Now we can see that this vital agreement signed last September has served for LG to surpass Tesla's partners, Panasonic.
LG Chem supplied 14% of the Tesla batteries produced during the first quarter of this year, with 88,461 units. Something that has enabled Koreans to rank first with a total of 6.3 GWh delivered. Out ranking for the first time their Japanese rivals, Panasonic, in electric car batteries in a quarter.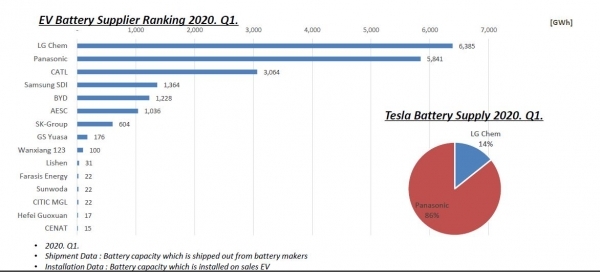 Although Panasonic is responsible for the bulk of deliveries to Tesla, LG has an extensive portfolio of customers who have achieved a reasonably good start to the year.
For example, the Volkswagen group delivered 60,721 units, followed by the Renault Alliance with 55,866 units. Figures of which to add the rest of the models that mount LG cells, which have raised the Koreans to the first place.
Behind LG and Panasonic, we find some strong brands that are growing sustainably. This is the case of the Chinese CATL, which is in the process of expansion, including a battery factory in Europe. A manufacturer that has closed the first quarter with 3 GWh delivered.
Already very far from the first three places, we find Samsung, with 1.3 GWh, BYD, with 1.2 GWh, and AESC, with 1GWh.
A market that does not stop growing in production capacity and is on the verge of a turning point where the cost per kWh will drop thanks to the economy of scale significantly. Also, as we see from the intense competition that is beginning to grow, in the next two or three years will see a significant number of new facilities come into operation that will boost the annual production rate.