After announcing a $1.5 billion investment into the cryptocurrency, Tesla is now officially accepting Bitcoin as a payment method.
Tesla announced that it had adjusted its investment policy a few weeks ago. The adjustments included adding gold and cryptocurrency, and the EV giant wasn't messing around as it revealed a $1.5 billion investment in Bitcoins: "In January 2021, we updated our investment policy to provide us with more flexibility to further diversify and maximize returns on our cash that is not required to maintain adequate operating liquidity. As part of the policy, which was duly approved by the Audit Committee of our Board of Directors, we may invest a portion of such cash in certain alternative reserve assets including digital assets, gold bullion, gold exchange-traded funds and other assets as specified in the future. Thereafter, we invested an aggregate $1.50 billion in bitcoin under this policy and may acquire and hold digital assets from time to time or long-term."
In addition to its new investment, Tesla announced that it will begin to accept payment in the form of Bitcoin in its day-to-day business operations.
Now it appears that that has been implemented as Tesla CEO, Elon Musk announced on Twitter that Tesla will now accept payment in Bitcoin effective immediately:
Of course we had to head over to Tesla's online configurator and sure enough, "Bitcoin" appears as a payment option: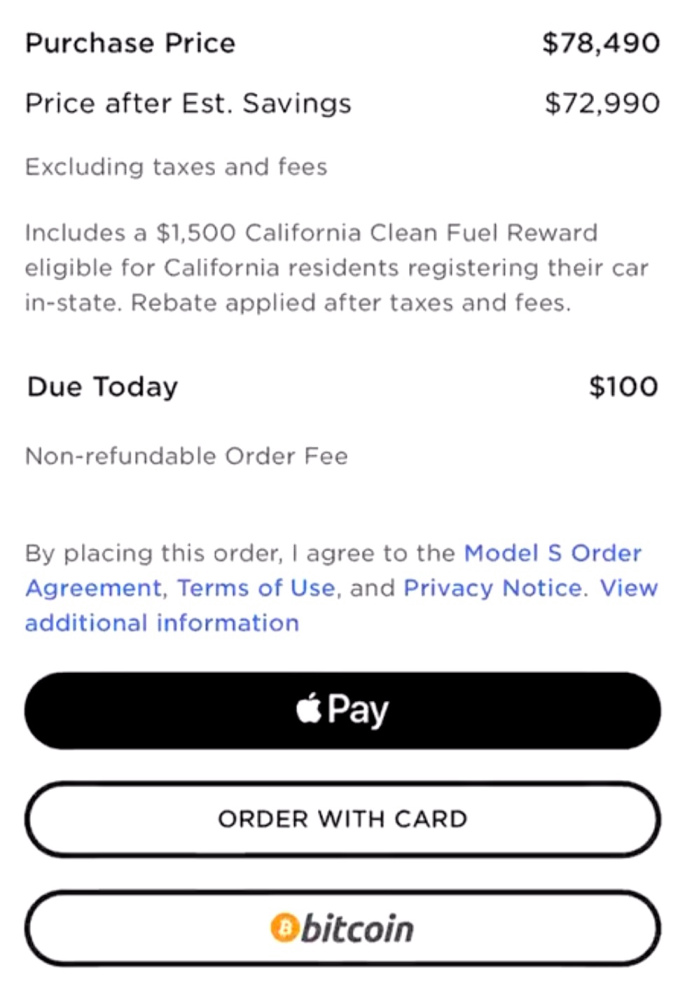 Bitcoin has been the crypto to watch in recent years and Elon Musk's announcement today had its price surging another $1,000+: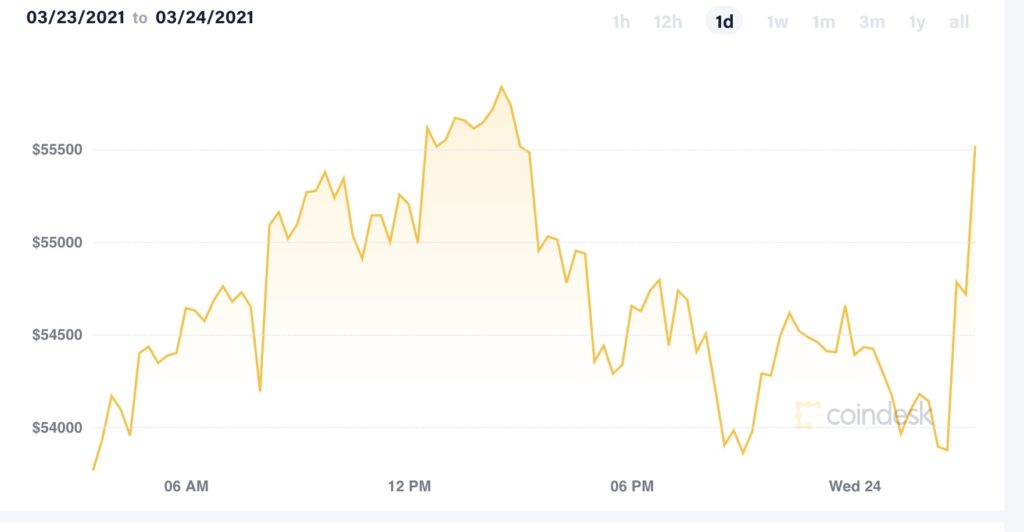 Tesla has decided to accept the cryptocurrency in hopes of having some of the individuals who profited off of Bitcoin, purchase their products.
However, there are two sides to the story as the automaker has been criticized for purchasing the cryptocurrency due to the fact that it goes against Tesla's entire mission of sustainability. The reason behind this is the "mining" process associated with the Bitcoin which can be very energy-intensive. This has caused some critics to point fingers at Tesla saying the promotion of the cryptocurrency adds to the its carbon footprint. 
It seems a little extreme, and recent reports show that Bitcoin has evolved into one of the most eco-friendly cryptocurrencies you can buy. Some studies even showed "around 75% of bitcoin mining was powered by renewable energy sources." Although bitcoin carries immense money-making potential and incredible benefits, it's always wise to be aware of your cryptocurrency's carbon footprint.