Read The Full Article On: Investorplace


It's a fool's errand betting against TSLA stock and investors should heed that warning this year.
By Todd Shriber, InvestorPlace Contributor Jan 7, 2021, 4:49 pm EST
All Tesla (NASDAQ:TSLA) did last year was surge, oh, 700% and finally find its way into the S&P 500. Accounting for that performance and the loss of the S&P 500 tailwind, it'd be easy to assume TSLA stock won't repeat its 2020 showing this year.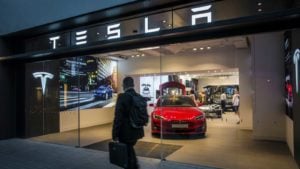 Source: Ivan Marc / Shutterstock.com
That doesn't mean the electric vehicle (EV) producer won't continue delivering for investors. Nor does it mean investors should waste their hard-earned capital by wagering against Elon Musk's company.
Indeed, it's rather easy to find talk of an EV equity bubble with some of that chatter revolving around Tesla. Yes, there are dubious companies in this space, plenty of which aren't yet delivering or may never bring a vehicle to market. But Tesla is an established leader with a track record of burning those that bet against it.
One of the most interesting facts from the past year, particularly for those holding TSLA stock, is that, as of Dec. 22, 2020, short sellers had lost $39 billion betting against the EV maker shares. Bears lost more than six times as much shorting Tesla last year than they did doing the same with Apple (NASDAQ:AAPL).
To further put that $39 billion into context, short sellers nearly lost an Electronic Arts (NASDAQ:EA) going against Tesla last year. There's still more than $30 billion worth of short interest in Tesla and the stock made its way above $700 just two trading days into 2021. Fortunately, for those long the name, Tesla doesn't need short covering to continue moving higher.
TSLA Stock: Analysts Still in Love
At the prices at which it hawks its wares, Tesla is a luxury vehicle maker, which narrow its pool of potential buyers. That's by design. Musk has set his company up as an aspirational brand on par with a BMW or Lexus and data confirm car buyers are taking the bait. In line with guidance, Tesla delivered 500,000 vehicles last year with 180,570 delivered in the fourth quarter.
"Our delivery count should be viewed as slightly conservative, as we only count a car as delivered if it is transferred to the customer and all paperwork is correct. Final numbers could vary by up to 0.5% or more," according to the company.
One year of solid deliveries is just a year, but it shows Tesla's technology and process are working, explaining why so many on Wall Street are coming around on the stock despite frothy valuations:
"Despite the extraordinary run in the share price, we continue to believe that Tesla can outperform vs. our sector in 2021," said Morgan Stanley analyst Adam Jonas in a note out late Tuesday. ""In our opinion, Tesla is still the best positioned company in EVs and AVs under our coverage due to its people, its technology, business model and access to capital."
Jonas raised his price target on TSLA stock to $810, implying upside of 10.20% from where the shares closed on January 5.
Tesla Topping the Competition
Investors have plenty of options when it comes to EV equities. Some of these companies are credible, some not so much and some members of the latter group may not be around in a few years. Still, there's only one Tesla and its lead over rivals is something to behold.
"We have been looking increasingly closer at a range of start-up players in the EV space and have increased conviction that Tesla's technological position and business model is the right one for this once-in-a-generation transition to sustainable transport," said Jonas.
With EV price parity with internal combustion engines (ICE) nearing, EV adoption increasing and speculation swirling that Tesla is producing up to 8,000 vehicles a week in China, TSLA stock could be a big winner again this year even if it doesn't match the huge gains of last year.