Read The Full Article On: Investorplace

Count on private enterprise, not politicians, to bolster the NKLA stock price
By David Moadel, InvestorPlace Contributor Nov 11, 2020, 8:41 am EST
An intensely contested election outcome and political polarization have made it challenging to invest with clarity. During this challenging time, it's tougher than ever to make a decision on Nikola (NASDAQ:NKLA) and, more specifically, on whether to buy, hold or sell NKLA stock.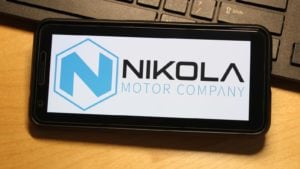 Source: Stephanie L Sanchez / Shutterstock.com
With or without the disputed election, NKLA stock is known to be prone to news-related volatility and controversy. In September, for example, research firm and short seller Hindenburg Research published a scathing report charging Nikola with "an intricate fraud built on dozens of lies."
Not long afterwards, Citron Research tweeted, "Congrats to Hindenburg for exposing what appears to be a total fraud… [Nikola's] response warrants an SEC investigation to maintain integrity of EV mkt."
And now, NKLA stock holders have to sort out a messy election and its implications for the electric-vehicle market. Can we possibly make sense of all this?
A Closer Look at NKLA Stock
Suffice it to say that the conversation has changed considerably since NKLA stock touched its 52-week high of $93.99 in June. As we now know in hindsight, the share price clearly wasn't destined to stay at that level.
This is a prime example of why I constantly advise people to avoid buying stocks after they've gone parabolic. After all, it's not unusual for gravity to set in after the hype phase passes.
Over the last several months, NKLA stock has gradually and painfully slipped below one support level after another. Yesterday it closed at $18.03.
So does NKLA stock represent "dead money"? Or is this a chance to own the shares of a bold electric truck company at a substantially reduced price? Perhaps the encouraging words of a mega-sized automotive ally can provide us with some much-needed insight.
Striking a Bullish Tone
Just to provide some background on this ongoing story, in September General Motors (NYSE:GM) announced plans to build versions of Nikola's electric truck, known as the Badger.
Due to the scathing Hindenburg report, I've seen plenty of social-media gurus predict that General Motors would terminate its partnership with Nikola. So far, that hasn't happened.
In fact, General Motors President Mark Reuss has declared that he's excited about working with Nikola. On top of that, Reuss was heard saying that he sees a "spectacular" opportunity to partner with Nikola.
To all of that, we can now add a recent statement in which General Motors CEO Mary Barra appears to have struck a strongly bullish tone on the future of electric vehicles.
While confirming that negotiations with Nikola are ongoing, Barra declared that General Motors "will definitely be bringing EVs to market faster than what the plan was a year ago."
Facing the Gridlock
Without a doubt, General Motors is a terrific ally for Nikola to have. Hopefully, Reuss' and Barra's statements will reduce traders' fears of a break in relations between the two automakers.
The bears won't likely go into hibernation, though, as they can always find an excuse to downplay the company's potential. Most recently, the prospect of gridlock in Washington next year have stoked fears that electric-vehicle initiatives will be dead in the water.
President-elect Joseph Biden's objective of net-zero carbon status for the U.S. by 2050might come to fruition or it might not. We can categorize this factor as a "known unknown."
But here's what we do know: According to a report published by Fortune Business Insights, the electric-vehicle market will maintain a compound annual growth rate (CAGR) of 21.1% from 2019 to 2026.
Furthermore, a report published by Allied Market Research projects that the electric-truck market will reach $1,893.1 million by the year 2027. So, gridlock or no gridlock, Nikola is positioned in a niche that's destined for rapid expansion in the coming years.
The Bottom Line
Worrying about the divisions between politicians won't likely improve your investing returns. If anything, trying to predict the impact of a divided government will only hinder your progress.
It's best to focus on the tremendous potential of the electric-vehicle market in the coming years. As far as I can tell, General Motors still intends to partner with  Nikola. That should be more important to the traders of NKLA stock than any political wrangling.