Maserati recently unveiled its new Folgore (Italian for "lightning") badge, which will be used to distinguish its 100% electric cars. Initially, all future Maserati models, whether they be saloons, SUVs, or supercars, will have a Folgore version in their range of engines, a move that will allow the Italian firm to compete head-to-head with Porsche.
It is confirmed that the recently presented MC20 and the future GranTurismo, GranCabrio, Grecale, Levante, and Quattroporte will have Folgore versions equipped with a powertrain consisting of three engines (one on the front axle and two on the rear, which will give them all-wheel drive) and an 800-volt electrical system. The only doubt is the Ghibli executive saloon, whose renewal has not yet been confirmed by the manufacturer.
All the models above, except the MC20 (which uses a specific carbon fiber monocoque), will be based on Alfa Romeo's Giorgio platform's evolution and will have batteries of around 100 kWh capacity. The Maserati Folgore will charge about 300 kW of power in direct current, which should give them very short charging times.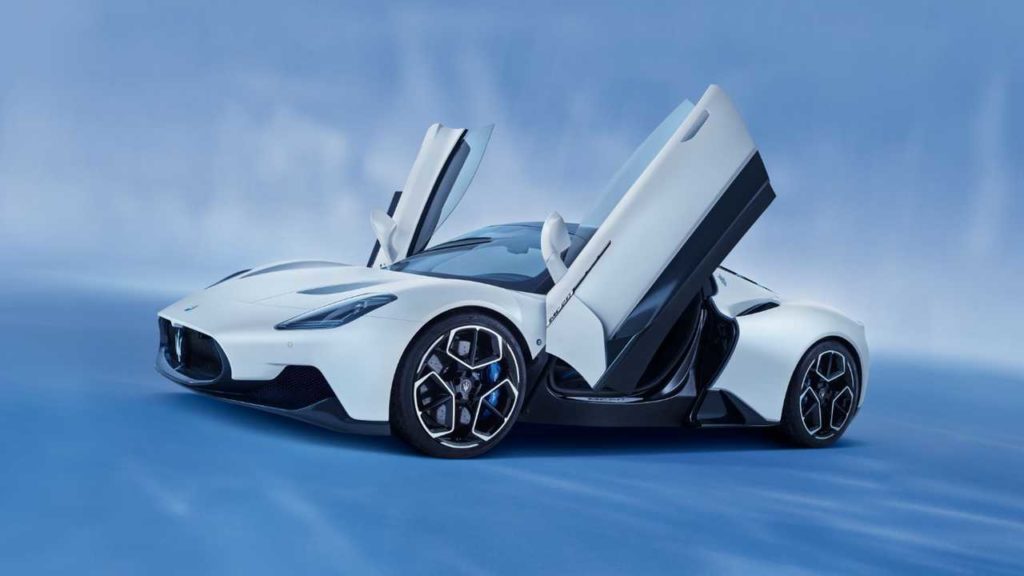 In parallel to its electric range, the launch of a family of plug-in hybrid models had previously been confirmed, which would link the thermal Maserati and the Folgore. However, now the Italian firm has announced by surprise that it will give up this type of powertrain to focus on pure electrics. Why?
From the Maserati development department, it is specified that "during development, we discovered that plug-in hybrids are not suitable for the Maserati brand. They would have no tangible advantage for the brand." Apparently, one of the main setbacks would have been the considerable increase in weight associated with this type of powertrain; However, there were also problems during the development of this technology, deciding to prioritize the pure electric ones.
Although Maserati does not plan to launch plug-in hybrid models, it will continue to electrify its thermal vehicles through the use of 48-volt micro-hybrid systems. One wonders if the abandonment of plug-in hybrid technology will affect other FCA group brands that make use of the Giorgio platform, such as Alfa Romeo, which does not currently have an electrified variant in its range.