Updated electrification plans have been released by German multinational automotive corporation, Daimler. While presenting its "technology strategy for the electrification of its vehicles" they unveiled a new long-range electric truck, Mercedes-Benz eActros LongHaul, and a concept fuel cell truck.
According to Daimler the truck will have a range of "about 500 km" (310 miles) and it should "be ready for series production in 2024."
Below are some images of the eActros LongHaul electric truck concept: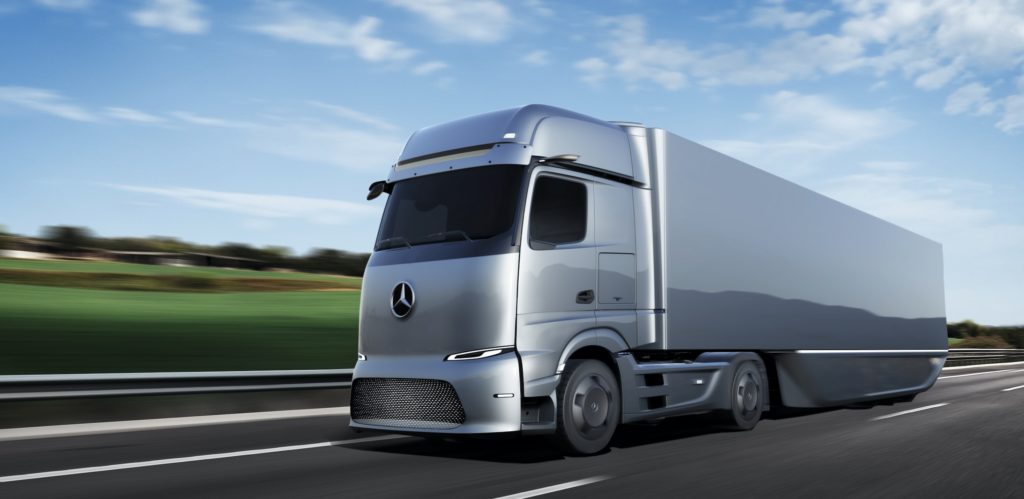 In addition to the new battery-electric truck, Daimler also unveiled a fuel-cell truck, the Mercedes-Benz GenH2 Truck. According to the company the  fuel-cell truck will have a range of "up to 1,000 kilometers and more" and will be equipped with a battery system and hydrogen fuel cells 
"In the series version of the GenH2 Truck, the fuel-cell system is to supply 2 x150 kilowatts and the battery is to provide an additional 400 kW temporarily. At 70 kWh, the storage capacity of the battery is relatively low, as it is not intended to meet energy needs, but mainly to be switched on to provide situational power support for the fuel cell, for example during peak loads while accelerating or while driving uphill fully loaded. At the same time, the relatively light battery allows a higher payload. It is to be recharged in series-production vehicles with braking energy and excess fuel-cell energy."
Although production is a ways away, Daimler is aiming to start customer trails for the electric-fuel cell truck in 2023.