Read The Full Article On: Investorplace

Nio is a popular electric vehicle stock with strong growth prospects
Electric vehicle stocks have been one of the biggest investment themes of 2020. In a year where tech stocks in general have performed well, several electric vehicle stocks, such as Nio (NYSE:NIO) stock, have seen their shares run higher.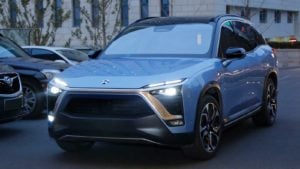 While Tesla (NASDAQ:TSLA) and its iconic CEO Elon Musk seem to capture most of the headlines, investors have plethora of elective vehicle makers to choose from these days, with Nio being one of more mature companies in the space.
Today, we'll take a look at Nio to see if there's still a little juice left in this electric carmaker.
What's the Story with NIO Stock?
It might seem a little ambitious to call Nio a "mature company" given that it founded in 2014 and went public only two years ago. But this is also an industry in which electric truck maker Nikola (NASDAQ:NKLA) managed to secure a $14 billion valuation despite not having any revenues.
That's not profits, by the way. Nikola has no revenues, as in it has yet to sell a single vehicle. Nikola, in contrast, runs a viable business and, like Tesla, has a lineup of models that customers are actually buying, including its ES6 and ES8 electric SUVs.
Like Tesla, Nio is also a leader in driverless car technology.
So, you can think of Nio stock as a relatively well-established player in a field dominated by startups.
The Bullish Case for Nio Revolves around China
China really took the lead in pushing for electric vehicle acceptance. Part of this is strategic, as China has to import most of its fossil fuels. China's air quality is also notoriously bad, and the Chinese government sees electric vehicles as a potential solution for that problem.
Late last year, before the novel coronavirus outbreak wreaked havoc on the Chinese economy, the Chinese government was reportedly considering a requirement that 60% of all car sales in China be electric vehicles by 2035.
As a homegrown champion, Nio stock stands to benefit from that trend.
Nio is still very much a niche player, but it's growing like a weed. The company delivered 3,533 vehicles in July, which was up 322% over the previous year. And year to date, the company had sold 17,702 vehicles through the end of July.
Now, again, that's obviously small potatoes. In a typical month, General Motors(NYSE:GM) might sell half a million vehicles. But managing 322% growth during a pandemic is something to be proud of.