Following the mini teaser video Lucid Motors' posted on Friday, the company's first electric car, the Lucid air, will have an EPA-rated single charge range of over 500 miles.
An independent test was conducted on the Lucid Air based on the EPA test cycle and the results are shocking. The concluded test showed a range of 517 miles.
In a press release the company stated "This new benchmark range was secured with FEV North America, Inc. in Auburn Hills, Michigan, applying the EPA's Multicycle Test Procedure (SAE J1634 Oct 2012 Standard) with the standard adjustment factor. The results confirm that the Lucid Air is the longest range electric vehicle to date."
See the test results below: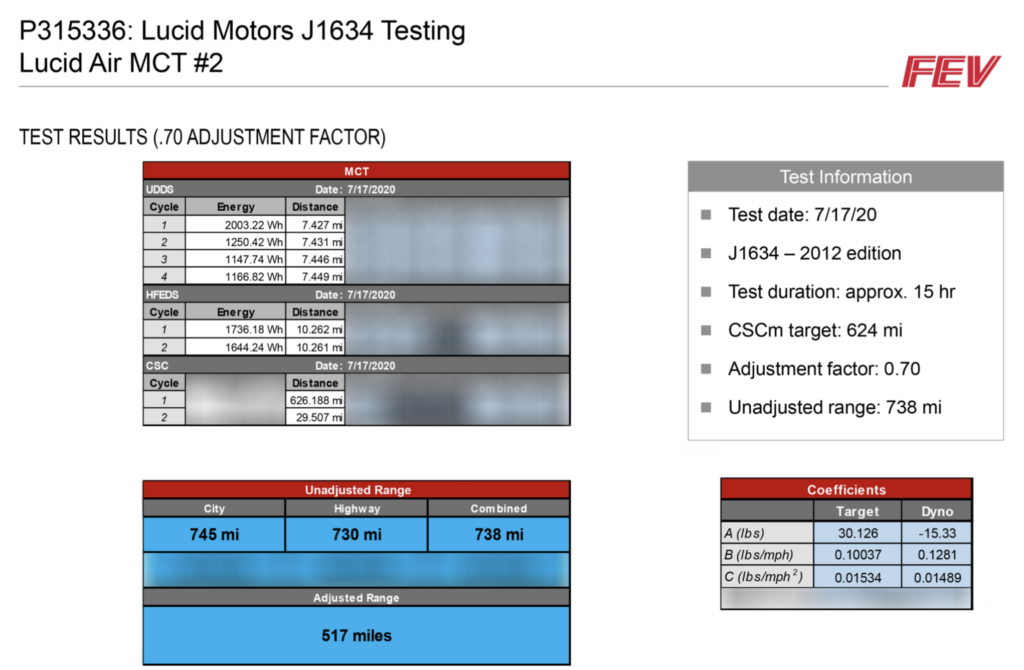 CEO of Lucid Motors, Peter Rawlinson, commented on the results saying "I'm delighted that the Lucid Air has been independently verified by FEV to achieve an estimated EPA range of 517 miles, and that this landmark in the history of EV development has been achieved entirely through Lucid's in-house technology. I believe that our 900-volt architecture, our race proven battery packs, miniaturized motors and power electronics, integrated transmission systems, aerodynamics, chassis and thermal systems, software, and overall system efficiency has now reached a stage where it collectively sets a new standard and delivers a host of 'world's firsts.'"
Lucid has previously discussed an energy capacity of around 130 kWh but, Rawlinson didn't confirm any more details regarding the pack. Final specs and pricing info of the Lucid Air are expected on September 9, along with the debut of its production version.