The race to gain a foothold in the increasingly competitive electric car sector is accompanied by a technological and economic battle to conquer parallel sectors, which will become a fundamental part of vehicles in the short term. We are talking about autonomous driving systems where today, Lucid Motors has given a significant blow on the table with the presentation of its DreamDrive system.
It is the first autonomous driving system equipped with LIDAR technology to be installed in a mass-produced car—quite an achievement for the small startup that has confirmed the start of production in early 2021.
This will consist of 32 multimodal sensors that include up to 14 front cameras, 4 short-wave radars, 12 ultrasonic sensors, and a high-resolution, long-distance LIDAR that will use lasers to measure the distance of each object in front of the vehicle.
A sophisticated manufacturer combination of sensors gives DreamDrive the ability to operate in any weather condition. A system complete with driver monitoring technology, which will help keep you informed and alert, with full attention on the road ahead.
At the moment Lucid has been indicated that on its arrival to the market, this system will remain within Level 2 of autonomous driving, like those of brands such as Tesla, and will come with up to 19 security, driving and parking assistance functions, with others eight more advanced features to come later via remote updates.
These include: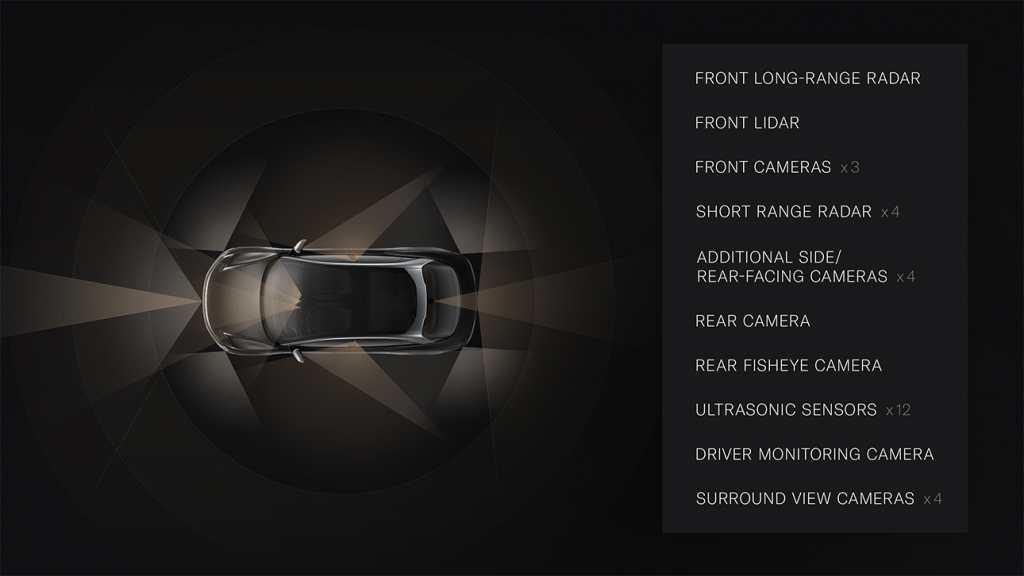 Security:
360-degree view monitoring
Object warning in a blind spot
Cross-traffic protection
Traffic sign recognition
Automatic emergency braking
Distracted or sleepy drivers alert
Driving:
Driving assistance (adaptive cruise control and lane-centering)
Road incident alerts
Automatic headlights
Parking lot:
Autonomous parking
Plaza exit control
According to Lucid, this technology is ready in the hardware section to jump to level 3 of autonomous driving when the software is ready. Something that will also depend on each market's regulations and that in practice means that the driver will be able to take his hands and his eyes off the road.
Also according to the brand "the first driving assistance system (ADAS) built on an ERPS (Ethernet Ring Protection Switching) architecture that also serves as a redundant platform for key functions such as steering control, brakes, and sensors, each one endowed with independent power supplies and communication paths, failed-operation actuators, and fault-tolerant computing."
A Lucid Air that will be presented on September 9, with production expected to start before finishing this year at its Arizona plant, will become the first on American soil to be developed from scratch to produce only electric cars.
An installation that will produce a spectacular vehicle that aims to be brought together in a single piece and very attractive design, a high level of finishes, a spacious and bright interior, but also a propulsion system that in its most powerful version will exceed 1,000 HP of power, and a battery that will reach 110 kWh and more than 400 miles of EPA autonomy.
A long way from its foundation full of ups and downs, which is now approaching the critical moment where many have failed, and which we hope Lucid will complete becoming a new manufacturer of electric cars.