Little by little, Chinese manufacturers have gone from launching simple copies of Western cars to a rather unusual position from design, quality, performance, and even safety. Something that is allowing them to stand out more and more in an electric car sector where traditional brands have lost valuable years. A time that manufacturers such as the BAIC group have taken advantage of to develop even their own brands of only electrical.
This is the case of Arcfox – A division that has been created exclusively for the design and sale of electric cars, and that is now preparing to begin sales of its first proposal. An impressive SUV loaded with technology and one of the largest autonomies on the market.
The first thing that strikes the Alpha-T is its design. A very European inspiration that will remind us of models from brands like Volkswagen. It has been created in the offices of Walter de Silva in Barcelona. A work that has resulted in a car that, in its final version, leaves no one indifferent thanks to its clean and continuous lines that run the entire length, and give a modern and charming appearance.
The Alpha-T is located in the segment of the Tesla Model Y, Jaguar i-Pace, or Mercedes EQC. Being 4.79 meters long, it offers ample space for five passengers and a good share of space for some cargo.
In the mechanical aspect, this model attracts attention for slightly distancing itself from the arms race in terms of engine powers. Despite having two, these yield a total of 160 kW (218 hp) and 360 Nm of torque. However, where it stands out is in the aspect of its battery.
It has a pack made up of NCM 811 cells from the Korean SK Innovation and achieves a capacity of 93.6 kWh. Something that, according to the manufacturer, allows it to travel up to 400 miles with each load under the Chinese cycle. Something that would place it as the third model with more autonomy on the market, only behind the Xpeng P7 (430 miles) and the Tesla Model 3 (400 miles).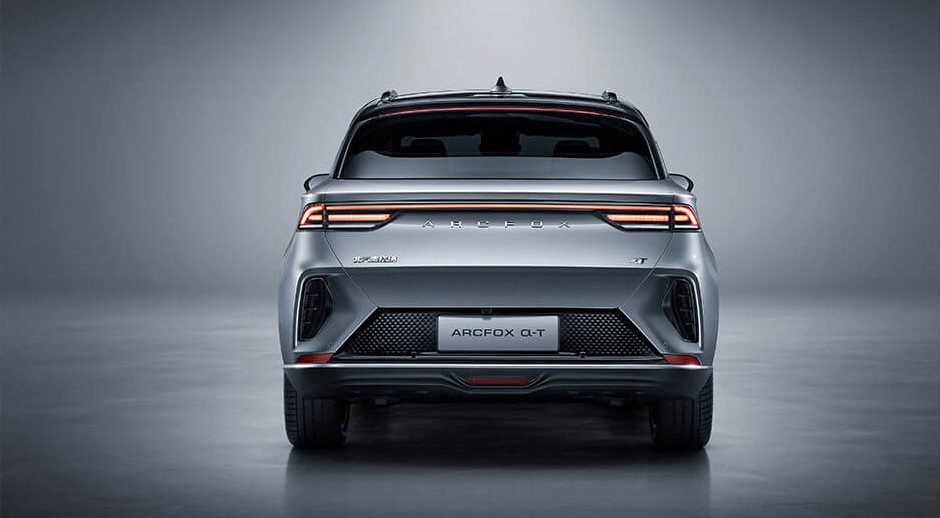 If we consider that the Model 3 loses 16% autonomy between its Chinese homologation to the WLTP, the Arcfox could be around 340 miles.
But the Alpha-T proposal does not stop there. This will also reach the market equipped with the latest technology, such as autonomous driving that can reach level 3 and 5G connectivity.
Arcfox will begin its deliveries this coming June and will have a price that startS at 280,000 yuan, or 36,500 dollars.