Read The Full Article at: CNN.com
BP has teamed up with ride-hailing giant Didi Chuxing to build a network of charging points across China, the world's largest market for electric vehicles.
The companies said the new standalone charging stations will be made available for use by Didi drivers and the general public. The joint venture could soon expand to include services for vehicle fleets.BP (BP) and Didi already operate a test site in the southern Chinese city of Guangzhou with 10 charging stations.
The financial terms of the joint venture were not disclosed.The companies said in a statement that they aim to "quickly become the leading electric vehicle charging provider in China."Content by BP The Dual Challenge: What is the World's Greatest Challenge?Across India, as millions lift out of poverty, the challenge is provide more energy with fewer emissions.Didi wants to help millions of drivers power their electric cars Didi has roughly 550 million users on its platform, and around 600,000 electric vehicles are running on it in China.
Earlier this year it joined forces with China's State Grid to connect its drivers with the giant power utility's 50,000 charging stations. BP is already rolling out a network of charging stations in its home UK market."The lessons we learn [in China] will help us further expand BP's advanced mobility business worldwide, helping drive the energy transition and develop solutions for a low carbon world," said BP executive Tufan Erginbilgic.A lack of charging infrastructure is one of the main barriers to the mass adoption of electric vehicles.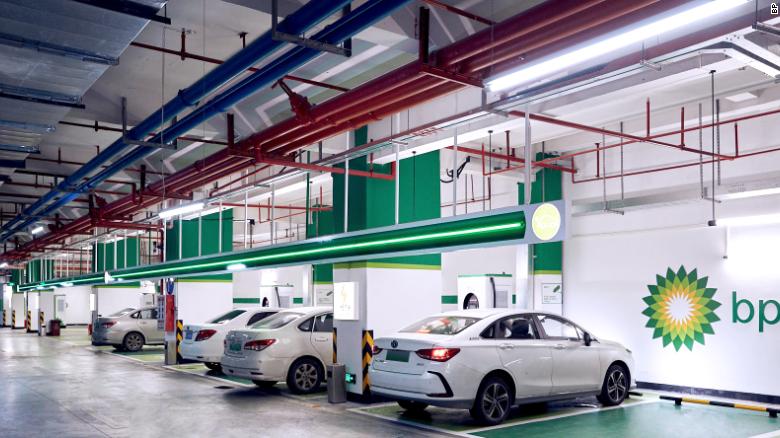 BP's charging hub in Guangzhou, Guangdong province, China.The shift to electric is already underway in China, however. Roughly half of all electric cars are sold in the country, where tough regulation and government incentives have driven demand.
BP said the Chinese government wants 4.8 million charging points installed across the country by next year, up from 770,000 at present.General Motors (GM), America's largest automaker, and Bechtel, the country's largest construction company, said in May they would build thousands of fast-charging stations across the United States.GM will provide the data and expertise needed to place chargers in the locations where they can best be used. Bechtel, meanwhile, will provide expertise in engineering, building and permitting for the stations.