Nissan has officially unveiled the color options for its upcoming all-electric Ariya. It will be the first of many EVs expected from the Japanese brand going forward as it begins its journey towards electrification. 
Nissan will offer a total of 10 colors for the electric crossover, four of which are monotone while the additional six two-tone options. Nissan even developed two, two-tone options specifically for the Ariya, Akatsuki Copper and Aurora Green.
According to the company: "Inspired by the Japanese phrase for 'dawn', Akatsuki Copper's striking appearance mimics the brilliance of a sunrise, reflecting the beginning of Nissan's new brand identity. Its metallic sparkle is enhanced to evoke the conductivity of copper wires, honouring the model's advanced EV technology."
In regards tot he Aurora Green option, it "takes its name from the beautiful 'Northern Lights' phenomenon, aurora borealis, commonly seen in the arctic. A sophisticated blend of different tones means the colour may appear green or purple depending on the angle that it is viewed, creating a sense of wonder and intrigue."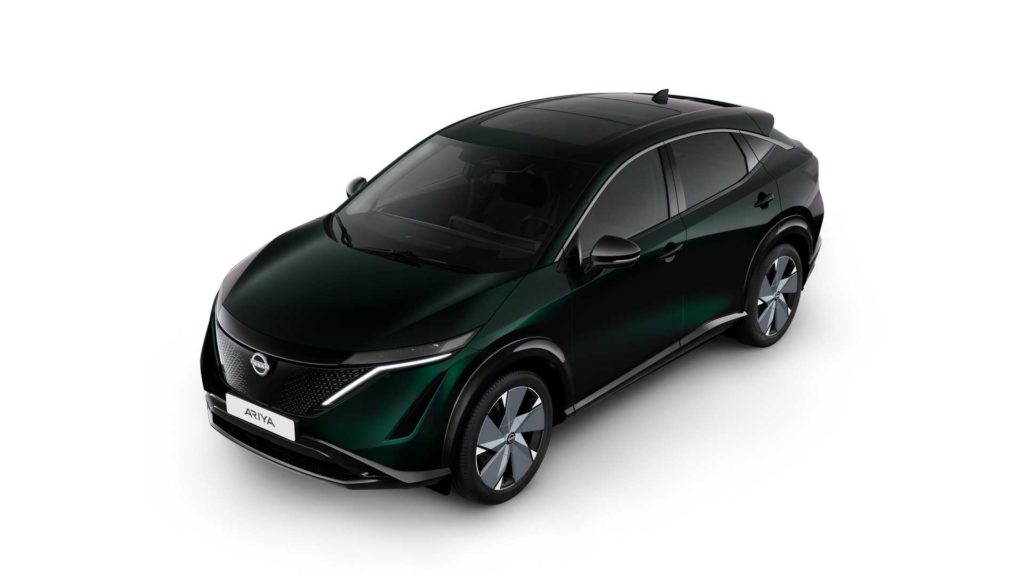 Nissan will also offer the Ariya in Pearl Black and Pearl White, which utilizes "an all-new pigment, developed to elevate the depth of the paint and to create a rich, captivating appearance".
Additional paint options are as shown below:
In addition to the paint palette unvieling, Nissan also noted that the innovations in the paint production line reduce carbon dioxide output by 25%: "Nissan has introduced a water-based paint which allows colours to be applied at a lower temperature, ensuring that each part of the vehicle can be painted together. This streamlines the entire application process, reducing carbon dioxide output by 25%."
According to the automaker, the 2022 Ariya will go on sale in the U.S. in the second half of 2021, after an initial Japanese-market release.