Read The Full Article On: Investorplace

There's little to hold WKHS stock back once the short interest declines
By Chris Lau, InvestorPlace Contributor Feb 8, 2021, 6:40 am EST
Last week, when Robinhood limited the maximum shares and options contracts its customers could hold, it artificially lifted several stocks. Workhorse Group(NASDAQ:WKHS) benefited from the strong buying, too. For the WKHS stock rally to continue over the longer-term, the company's fundamentals must progress over the next several months.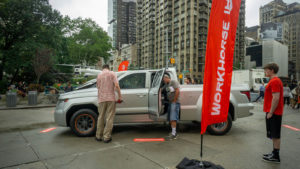 Source: rblfmr / Shutterstock.com
In the short-term, WKHS stock will face growing volatility. Investors will need to exercise extra caution as prices move up or down. The next quarterly earnings report is unlikely to change its fundamentals, either. Much will depend on Workhorse receiving more purchase orders in the coming months.
Investors are holding Workhorse to bet on the Biden-Harris team implementing nine key elements for a clean energy revolution. The order is a pledge to spend $400 billion on federal procurement that includes electric vehicles and renewables.
Workhorse's all-electric delivery vehicles will fit that narrative. In early Jan., the company received a purchase order for 6,320 C-Series delivery vehicles. Pride Group will buy Workhorse's C-1000 and C-650 models.
Workhorse describes itself as the last mile delivery truck supplier. And as the government invests in renewable transportation, investors should expect Workhorse's business to grow.
The bad news is that the company posted net sales of just $564,707. Costs greatly exceeded sales and totaled $7.564 million. The firm lost $84.13 million for the three months ended Sept. 30, 2020.
Upside Potential for WKHS Stock
Shareholders do not need to worry much about the current losses. The company is winning a steady stream of orders. Government support for EVs will encourage customers to place orders with Workhorse.
Winning a deal with the U.S. Postal Service will propel Workhorse shares to new highs. As this author detailed here, the project would bring in $8.1 billion in revenue for the company. That would easily dwarf last quarter's revenue. It would also justify the stock's current valuation.
A short float of 30.03% against the stock also helps. A USPS deal would accelerate the squeeze on investors who bet for Workhorse to fail.
The Workhorse Chart
Source: Chart courtesy of StockRover.com
Workhorse scored a 99/100 on momentum after the stock rallied.
For now, Workhorse scores poorly on financial strength, but through its various financings, the company strengthened its balance sheet by the end of the third quarter.
WKHS had over $260 million in cash. As its customer base grows, it may increase its financing needs as banks support the company. This will in turn lift Workhorse's efficiency and financial strength ratings.
Fair Value
According to simplywall.st, WKHS stock is worth around $28.00. Until the company has a deal with the USPS in hand, investors may only guess what price to pay for the stock.
U.S. politics favor the growth of clean energy companies. Workhorse is in a strong strategic position in the truck delivery market to benefit from government investments.
The stock market also anticipates that Workhorse will win a few supply deals for its EV trucks. The market has a healthy future demand for them.
For example, Tesla (NASDAQ:TSLA) is reportedly delivering its 2022 Cybertruck this year. Fisker (NASDAQ:FSR) is best known for its SUV EV development but is also rumored to be developing an electric pickup. Furthermore, General Motors(NYSE:GM) will make EV trucks, too as it competes for market share.
Your Takeaway on WKHS Stock
EV investing is risky because of the unknowns ahead and the valuations.
Short-sellers may continue betting against its upside potential while bulls hold the stock. Since Workhorse's prospects for this year are strong, the bulls have the advantage. They will have the upper hand by not selling shares, with plans to hold them for several years.