Read The Full Article On: Investorplace
Prepare for WKHS stock to get a lot more volatile in 2021
General Motors (NYSE:GM) announced on Jan. 12 that it was launching BrightDrop, the company's push to become a big player in electric commercial vehicles. If you're a Workhorse Group (NASDAQ:WKHS) shareholder, that's not good news. Interestingly, WKHS stock barely moved on the announcement.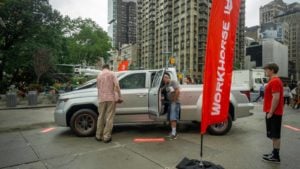 Source: Shutterstock
It appears investors aren't concerned just yet about GM's big announcement. But they should be.
Let's consider the possibilities.
GM's Got a Bigger Picture
For those of you familiar with GM's marriage breakdown with Nikola (NASDAQ:NKLA), you know that a key attraction of the partnership was GM's opportunity to flex its muscles regarding the Ultium battery and electric vehicle platform.
Originally, GM would take a stake in Nikola and help it engineer and build the Badger EV pickup truck. That whole deal fell apart when fraud charges surfaced surrounding Nikola and its founder, Trevor Milton. The chairman was forced to step down from his position in September 2020 so that both companies could complete an investigation.
As a result of the allegations, GM reduced Nikola's role from partner to customer. It plans to help the company put GM's Hydrotec fuel-cell technology into Nikola's Class 7 and Class 8 semi-trucks.
That's quite a comedown.
BrightDrop Is Bad News for All Commercial EV Startups
Now, GM is launching BrightDrop, with FedEx (NYSE:FDX) playing an important role in electric commercial vehicles' future success. FedEx worked with GM in 2020 to test out GM's EP1 delivery pallet; it's also interested in buying a number of its EV600 delivery vans set to begin production toward the end of 2021.
The EV600 will have 600 cubic feet of cargo space and a range of 250 miles, making first-mile last-mile deliveries a cinch.
Needless to say, knowing what we do today about BrightDrop, it's easy to see why GM walked away from Nikola. I continue to maintain that the real money in the electrification game, at least in the near term, will be for commercial rather than personal vehicles.
"BrightDrop offers a smarter way to deliver goods and services," CEO Mary Barra said in its press release. "We are building on our significant expertise in electrification, mobility applications, telematics and fleet management, with a new one-stop-shop solution for commercial customers to move goods in a better, more sustainable way."
You don't have to be a genius to know that GM smells opportunity. It estimates that the total addressable market worldwide will be more than $850 billion by 2025.
What does Workhorse have to show for its efforts?
A Potential Contract with the Post Office
InvestorPlace's Josh Enomoto recently discussed why Workhorse's bid to provide the U.S. Postal Service with new postal trucks to replace its aging fleet of long-life vehicles (LLVs) isn't a sure thing.
This, despite getting a large order of 6,320 C-Series all-electric delivery vehicles from Pride Group Enterprises in early January.
My colleague points out that the Post Office contract has been delayed on several occasions as management considers each of the proposals' long-term costs.
Workhorse Group's solution is the only one that's all-electric; electric batteries are said to degrade faster in hotter climates. They require costlier tires to cope with the extra weight from the battery packs. Multiply these two costs by thousands of vehicles, and it's easy to see why it might not be a slam dunk.
The Bottom Line on WKHS Stock
In my last article about Workhorse in early December, I called WKHS a speculative buyprimarily because of the 1,800 vehicles it planned to produce in 2021. Add in the big order discussed earlier and it's easy to get excited about the company's future.
Now, with GM entering the fray in a big way, my confidence in Workhorse's future isn't quite as rosy. I mean, who would you deal with if you had a choice between Workhorse and GM?
My colleague also mentioned that there'd been little insider buying — and lots of selling — since 2019.
"Beyond the question marks over the USPS contract, a report from GuruFocus.com notes that Workhorse insiders, including CEO and president Duane Hughes, have been selling their shares of WKHS stock," Enomoto wrote on Jan. 13. "It appears that the last time an insider was bullish was in 2019. Is this something investors should be worried about?"
I think it is.
Hughes and company likely know GM's shot across its bow won't be the last BrightDrop takes in 2021 and beyond.
Fasten your seatbelts.