Read The Full Article On: Investorplace
Having perused the various sources that electric vehicle (EV) fans consult, I have come to the conclusion that for many (not all), EVs have become less a method of transportation and more like a religion. Therefore, I'm going to tread carefully when it comes to Nio (NYSE:NIO). I like the company. But I also like a good deal. That's why I'm not eager to jump into NIO stock right now.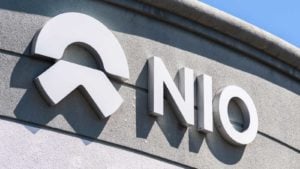 Source: Sundry Photography / Shutterstock.com
Still, I understand the temptation to buy before the fear of missing out gets to you at a really overstretched price. Sure enough, plenty of evidence exists that NIO stock could move higher in the near term.
But first and foremost, we're probably in an EV bubble. From Tesla (NASDAQ:TSLA) to Li Auto (NASDAQ:LI), we've seen wild movements in the valuation of many EV manufacturers.
Even companies which have a loose or ambiguous association with EVs, such as Kaixin Auto (NASDAQ:KXIN), have performed very well. To some folks, that might be a sign that an innovation is finally getting its day in the sun. Or, it could be a harbinger of doom for a sector that has disassociated from reality. Whatever the case, this sentiment train is something you don't want to get in front of.
NIO Stock and Nio Day
When it comes to NIO stock, the underlying company's Nio Day was an impressive event. On Jan. 9, the world saw the company's debut of the ET7 flagship sedan, a car designed to compete with the Tesla Model S. Personally, I loved the vehicle's design.
Plus, backing up those gorgeous looks is an available 150-kilowatt-hour battery pack. The battery is capable of a claimed 621 miles of range. Additionally, the EV's motor can launch the ET7 from standstill to 62 miles per hour in a blistering 3.9 seconds.
If that weren't enough, GreenCarReports.com states that some clues indicate the ET7 "could be the first mass-produced passenger car anywhere in the world — yes, before Tesla — to have solid-state battery technology." But that's when the red flags started popping up in my head.
Aspirations Must Make Business Sense
At this point in the EV mania, no one dares question Tesla's founder and CEO Elon Musk. However, I must bring up some old but relevant news. Back before the company's Battery Day, there was a lot of hype expecting TSLA would provide a blueprint for the future of affordable EVs.
Instead, according to The Verge, the company's 2020 Battery Day "ended with no battery and a lot of unanswered questions." Now it appears that Nio — having come back to life thanks essentially to a government lifeline — has caught some of Tesla's swagger. But I'm not necessarily sure that's a positive for NIO stock.
For instance, the 621-mile range is a bit much, as GreenCarReports rightly called out. Nio achieved this outrageously brilliant number through the NEDC testing cycle. Long story short, automakers have learned to game the system, hence the figure's outrageousness.
But the biggest red flag has got to be the supposed "hints" about a mass-produced solid-state battery (SSB) vehicle. Frankly, I'm not 100% sure that the technology is ready for that. Right now, the biggest challenge with SSBs is the number of possible charging cycles before the battery loses structural integrity.
In fact, that was the main accusation leveled against startup QuantumScape(NYSE:QS). For example, one lawsuit filed against the company alleges that QuantumScape's batteries are "completely unacceptable for real world field electric vehicles."
Moreover, Toyota (NYSE:TM) and Panasonic (OTCMKTS:PCRFY) are world-renowned firms that are also currently developing SSBs yet still encountering challenges. So, although you don't want to say never, it's highly unlikely that Nio has figured out the SSB problem. And that might especially be the case because Chinese EV machinery is often focused on scale, not necessarily quality.
On that basis, it's hard to justify paying a premium for NIO stock. Neither the company nor its country has demonstrated much of an ability to compete on anything other than sheer volume.
Competition Will Be a Bigger Problem
According to data from EV-Volumes.com, battery EV sales exploded higher from 2017 to 2018 in the Americas. However, sales moved much more modestly from 2018 to 2019.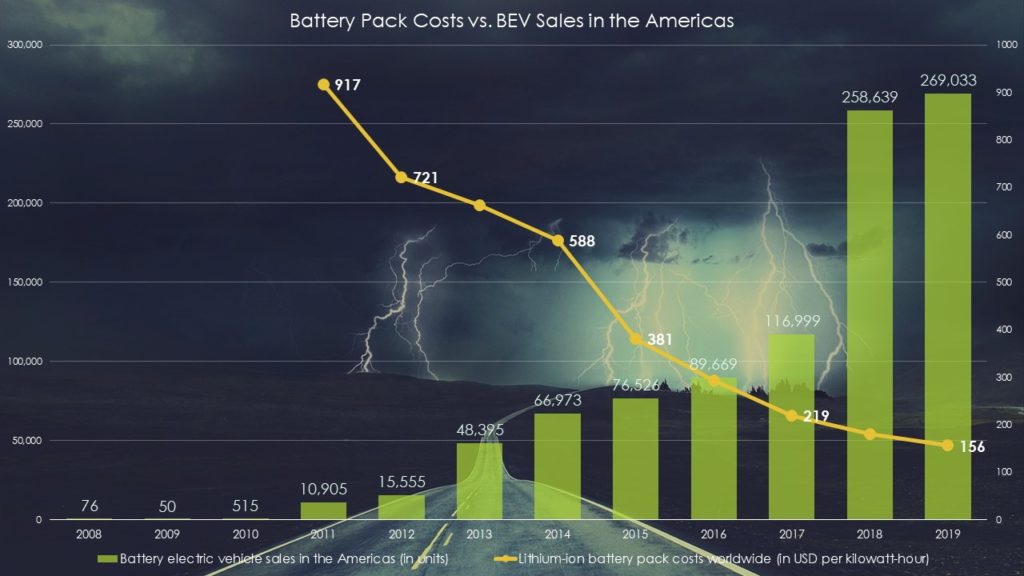 To be fair, the nominal figures cited by EV-Volumes.com are relatively low. However, the rate of sales is in line with trends seen in global EV sales. Personally, I find this odd since battery pack costs have fallen dramatically since 2011. Shouldn't EV integration be much more robust by now?
Logically, it seems that government incentives, whether here, in China or elsewhere have ramped up enthusiasm for EVs. But what happens when those incentives dry up?
Proponents will argue that once you go green, you'll never gasoline. Fine. But until EVs reach price points accessible to most of the driving public, they will likely remain the toys of affluent people.
And that will start weighing on NIO stock, once the competition starts muscling in. Let's face it — nobody's buying a $60,000-plus car to be frugal and pragmatic. Indeed, there's a certain vanity effect among high-end Chinese consumers. And would they rather be driving a Nio ET7 or a Porsche Taycan, a German-engineered EV that has been well-received, even by the enthusiast community?
Think about it: an electric Porsche that's performance-tuned, environmentally friendly and reliable. Holy smokes. Of course, that kind of entry into the market is good for Porsche, but not so much Nio. And there will only be more competition to come.