Read The Full Article On: Investorplace
Faraday & Future Inc. is reportedly looking to go public via a merger with special purpose acquisition company (SPAC) Property Solutions Acquisition(NASDAQ:PSAC).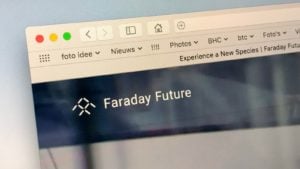 Source: Jarretera / Shutterstock.com
According to sources close to the matter, Property Solutions Acquisition is looking to raise $400 million in equity for the deal. That would have it valuing the combined company at about $3 billion. It's still unclear when news about the SPAC merger could be officially announced by Faraday, Bloomberg notes.
What is clear is that investors are excited about the chance to own a stake in Faraday. As of this writing, more than 5 million shares of PSAC stock have changed hands. For some perspective, the company's daily average trading volume is only about 79,000 shares.
Here's everything potential investors need to know about Faraday ahead of its possible SPAC merger with Property Solutions Acquisition.
Its headquarters is in Los Angeles but the company has offices around the world.
The company's flagship model is the FF 91.
It also sports autonomous software that will allow the car to drive itself.
With that in mind, much of the inside is designed as a luxury vehicle with plenty of room to lay back seats and relax.
The FF 91 isn't out yet but the company is accepting reservations for the EV.
PSAC stock was up 17.6% as of Monday morning.