Read The Full article On: Investorplace


It's not just poor people that are hurting, which could impact the prospects for TSLA stock
Easily one of the strongest market performers of 2020 is Tesla (NASDAQ:TSLA). Assuming something absolutely nutty doesn't happen from now until year's end, TSLA stock should close this otherwise terrible year returning well above 600%. Ordinarily, though, such an outperformance raises questions about upside sustainability, a serious consideration given the economic crisis. Then again, TSLA has qualities similar to that of Advanced Micro Devices (NASDAQ:AMD), which simply keeps chugging forward.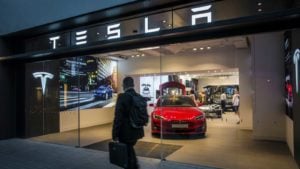 Source: Ivan Marc / Shutterstock.com
In my spare time – of what little I have – I've dived into the electric vehicle narrative. From an outsider's perspective, I wanted to know if the hype was real. Obviously, if you look around the blogosphere, you'll find no shortage of EV advocates pushing back against what they perceive as false or misleading information. Also, I've had friends that have bought Teslas and swearing they'll never buy another internal-combustion-engine car again.
These are bold statements supporting the broader bullish argument for TSLA stock. Yet here's what raises red flags for me: when a new innovation is billed as the next big thing, there's always a chance that it can fail. Indeed, Ferdinand Porsche – yes, of Porsche(OTCMKTS:POAHY) fame – began his automotive journey with an electric motor.
And what was the motivation for going electric? According to Porsche's employer Jacob Lohner, the air was "ruthlessly spoiled by the large number of petrol engines in use." But it wasn't until a century later that EVs truly became viable. Thus, there are some concerns, especially as it relates to TSLA stock, that we could wait several more years until the holistic infrastructure and consumer sentiment is ready for mainstream integration.
Should driver and investor be concerned?
Fundamentally, TSLA Stock Is on the Right Track
Before I get into it, I must confess a personal bias: I'm not 100% sure I'll ever make the switch to electric. I'll admit the concept sounds cool. Further, reducing our dependency on Middle Eastern supply chains and therefore eliminating the need to get into stupid bloody conflicts is a massive plus that we Americans – irrespective of driving preferences – shouldn't ignore.
As well, we have the incoming administration of President-elect Joe Biden. His plan calls for an aggressive pivot to get the U.S. to become a net-zero emissions society by 2050.
Moreover, by taking polluting combustion cars off the road and replacing them with clean, convenient EVs, we can make substantive contributions in our battle against climate change.
A New Approach
But will the consumer also be willing to pivot? In my opinion, the Democrats are going about this the wrong way. Rather than forcing consumers' hands like California Gov. Gavin Newsom is doing, governments should allow EV manufacturers to focus on the free market. In other words, let EVs prove they are superior to combustion cars. This is where Tesla stock offers a profoundly strong fundamental argument.
Objectively, in the right driving circumstances, EVs are superior to the combustion engine in almost every category. While I don't want to get into a dissertation of every attribute, let's talk about range anxiety. With Americans on average driving a roundtrip of 32 miles to work, chances are, you're not going to stretch the capacity of your EV.
And the convenience factor of waiting half-an-hour or longer for a charge? Under urban conditions, the wait time for EVs is basically zero. That's because drivers have the option of charging at home while they're sleeping, something that combustion car drivers can never do.
Therefore, as long as we're staying within "normal" or "average" usage parameters, EVs are superior.
Economic Woes Present the Biggest Challenge
On the surface, this sounds like a no-brainer opportunity in TSLA stock. But we should also acknowledge that EVs just quite haven't reached the tipping point where mainstream integration is likely. As an example, companies like Microsoft(NASDAQ:MSFT) took many years to reach and exceed their tech bubble highs.
Please don't get me wrong – I'm not saying that Tesla shares will repeat the tech bubble's history. But it's something that you should at least consider before betting too heavily on TSLA stock.
Part of the problem is the internal combustion engine. After this petrol-based platform beat out electric and steam, it enjoyed more than a century of innovations. Yes, you can blast ICE as being dirty and anachronistic – and many EV proponents do. But the irony is that this platform is at the peak of its technological prowess.
Points to Consider
Naturally, this brings to the table two attributes: ICE cars last longer than ever, and they have far superior economies of scale that are distributed across all pricing spectrums. Both points already made ICE cars difficult to displace and this potentially prolonged recession could set back EVs who knows how many years.
First, CNBC reported in 2017 that car owners are holding onto their vehicles much longer than in prior years. A painful recession and continued deflation in the oil industry will almost surely not make consumers bullish on car purchases.
Second, the pricing distribution for EVs and Teslas in particular are wacky. I'm sorry but you've got to look at the statistics. For example, the average Ford (NYSE:F) Fiesta buyer had a household income of $59,000 (the last Fiesta was sold in 2019), about $10,000 lower than the median U.S. household income.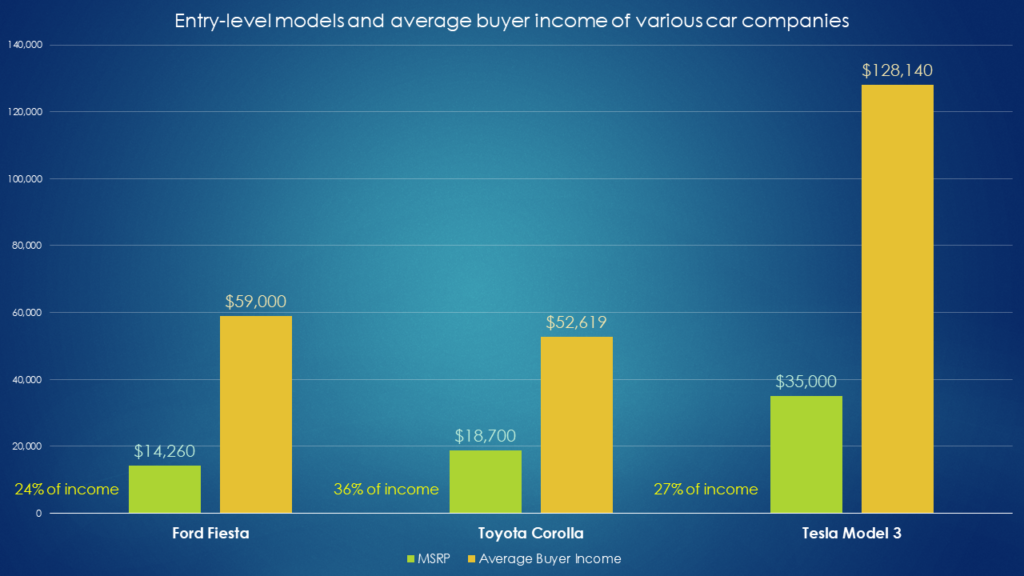 But what about the Tesla Model 3, the company's lowest-priced EV? According to a survey conducted by Hedges & Company, the average household income of a Model 3 owner is $128,140. That's almost double the median U.S. household income! Again, that's at the lowest price offering.
If we have a continuation of this incredible bull market, TSLA stock can move higher. But if we incur a prolonged downturn, I don't believe this is sustainable.
Decisions, Decisions
Forced to make a decision, I'd aim for the sidelines. Many signs indicate that we're in for a long winter economically.
For one thing, the acceleration in permanent job losers has been severe. In a nine-month period, this metric jumped nearly 193%. In contrast, such losses increased approximately 258% between November 2007 and November 2009.
Secondly, the losses in the employment level of educated workers since late summer means that year-to-date, this segment is down 3.5% versus 5.7% down for the overall employment level. In my opinion, the tightness of the gap between educated workers and all workers irrespective of education is worrying, considering that we are a service- and innovation-driven economy.
This also implies that the companies hiring these educated (and presumably higher-paid) workers are gradually feeling the pain. If so, I'm not sure TSLA stock is the right call right now.