Read The Full Article On: Investorplace
Less-than-favorable economic data suggests caution for SBE stock
By Josh Enomoto, InvestorPlace Contributor Dec 14, 2020, 9:33 am EST
From seemingly every angle, Switchback Energy (NYSE:SBE) makes sense. Part of the special purpose acquisition company (SPAC) craze, Switchback will merge with ChargePoint, which operates the largest electric-vehicle (EV) charging network in North America and Europe. Of course, that's huge for SBE stock, as the underlying company fuels the EV revolution.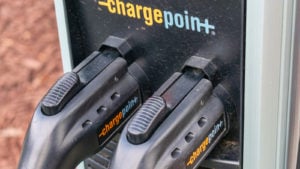 Source: Michael Vi / Shutterstock.com
And what a revolution it has been! When the novel coronavirus pandemic hit the U.S. and multiple developed nations, the global economy essentially grounded to a halt. Markets tanked, as people rightfully feared the worst. If you remember back to that time — which now seems like a lifetime ago — you'll recall the rumor mill running rampant.
In many cases, not knowing is worse than bad news. But in the brief moment when Republicans and Democrats came together to bail out the American people, some sense of normalcy returned. That was the catalyst for EVs to make their case, which invariably boosted the fundamental narrative for SBE stock.
For one thing, EVs have — all other things being equal — far fewer moving parts than their combustion-engine counterparts. Logically, this reduces the impact of the electric platform to automotive supply-chain disruptions. Moreover, EVs require fewer maintenance actions, such as oil changes. Therefore, the charge-up-and-go narrative became a highlight during the pandemic-fueled lockdowns.
Of course, with new daily coronavirus cases skyrocketing to absurd heights recently, that argument cynically plays well into the hands of SBE stock.
More critically, as InvestorPlace contributor Faizan Farooque noted, an analysis from Bloomberg New Energy Finance revealed that by 2040, EVs could represent 57% share of global auto sales. Better yet, that's a 2% increase from the prior forecast for 2040. All this points to a robust upside pathway for SBE stock.
As you know, Switchback has made good on its promised potential. But do shares have more to offer?
Why the Fundamentals Are Concerning for SBE Stock
My colleague is quite bullish on SBE stock, arguing that investors should consider buying in before the ChargePoint merger closes. I will say this. I'm in total agreement with the longer-term concept that this is a viable investment. But as a nearer-term trade? It's risky.
Admittedly, my pensiveness is an opportunity cost. Again, almost everywhere you look, EVs have captured the mainstream attention. Obviously, you have Tesla(NASDAQ:TSLA) and its meteoric rise. Other traditional automakers are aggressively competing in the burgeoning arena.
Then, you have the politics as well. President-elect Joe Biden is in, which means the emphasis on old-school fossil fuels is out. Further, the Biden plan calls for the U.S. to become a net-zero emissions economy by the year 2050. Who knows if we'll get there, but the sentiment surely benefits SBE stock.
But in order for EV charging networks to make sense, consumers must obviously first buy EVs. And that's exactly where I'm seeing some disconcerting data.
With the unemployment rate dropping to 6.7% in November, we've made substantial progress since April, when the jobless rate was 14.7%. When you look at this data from the perspective of the employment level, the worker count increased from 133.4 million to nearly 150 million. So far, so good.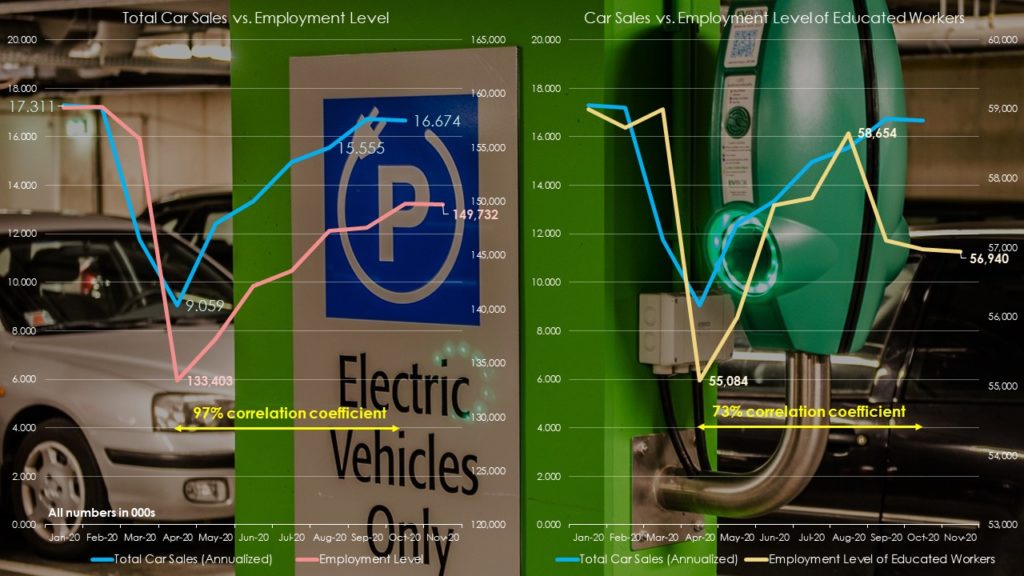 Click to EnlargeSource: Chart by Josh Enomoto
But here's the rub: EVs are expensive. Sure, you can buy a cheap EV, but then you typically sacrifice range and quality. Besides, buying a car no matter what type is a costly purchase. Therefore, it's not just the employment level that's important, but what kind of workers are employed.
Reasonably, you'd expect that those with bachelor's degrees or higher would be the prime consumers for EVs. But this demographic has been one of the hardest hit. For instance, between August and November, the employment level for educated workers dropped from 58.7 million to 56.9 million, or down 3%.
I'm not sure if the current run up in SBE stock is sustainable if the prime consumer market is deflating.
Wait for a Better Economic Read
Given the emotional state of the EV sector, I'm not opposed to those who want to speculate on Switchback. If you can stomach the potential volatility, this might be your ticket to success. Plus, even if you do take a loss, you'd figure that EVs are the future. Therefore, you will probably make your money back.
But if you're on the conservative side of the spectrum, you may wish to wait. To be completely transparent, my research into the employment levels surprised me. I didn't expect the labor sector for educated workers to be weaker than the national trend. This should at least give you pause before making your decision.