Read The Full Article On: Investorplace
Nio stock is tough to value, but it be reaching a nice entry price

Nio (NYSE:NIO) has been one of the fascinating story stocks of 2020. After trading for at a 52-week low of $2.11 earlier this year, Nio stock is trading at all-time highs.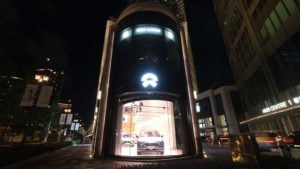 Source: Robert Way / Shutterstock.com
In a year when a company that has anything to do with the electric vehicle (EV) sector is in a bubble, that may not seem impressive. But the Chinese EV manufacturer was on the verge of bankruptcy earlier this year.
At that time, I was bearish about Nio. I've come around on the stock a lot. Nio has continued to prove that the liquidity it received courtesy of the Chinese government was well founded.
The company is addressing the issue of an EV battery in a unique and potentially profitable way through its battery-as-a-service (BaaS) program. And prior to the Nio stock's recent dip, the stock was surging on news that the company had delivered more vehicles in the third quarter than expected.
Still questions remain about Nio's valuation. But the simple fact is that Nio shares are a compelling buy even, as Vince Martin pointed out recently, when trading around 10x 2022 revenue.
But does that mean you should buy the stock?
The Chinese Government May Have Some Questions
A recent article by MarketBeat writer Thomas Hughes says that Nio may face some headwinds as China looks to launch a nationwide review of all electric vehicle projects in play.
The government has not mentioned Nio specifically. And it was the Chinese government that played a primary role in ensuring the company's solvency. So it may not be looking to punish its own.
But any mention of the Chinese government getting involved with Chinese companies is a stark reminder that the United States and China have two distinct styles of government. And the Chinese government, if it so chooses, could play a much larger role in Nio's affairs than would be the case for a U.S. company.
Will Nio Stock Get Delisted?
That's the burning question that caused Nio stock to drop approximately 20% in a week. According to a Barron's article, Nio has said they are already in compliance with the requirements laid out by the new law passed in the U.S. House of Representatives.
Delisting is a consequence of the bill, although not the objective. The objective is to ensure that Chinese companies provide the U.S. Public Company Accounting Oversight Board (PCAOB) with audit oversight.
Doing so, say proponents of the bill, will allow U.S. investors to have the same information that U.S. investors have when deciding to invest in U.S. companies or companies in over 50 foreign jurisdictions.
Although this story is not insignificant, the companies have three years to comply with the requirements laid out in the House bill. And with an administration coming on to the scene that will be far less hostile to China, it is likely that the Bill may never get passed in its current form.
Is The Bubble Going to Burst on Nio?
My simple answer is who knows? I've felt the bubble could have burst on Tesla(NASDAQ:TSLA) for well over a year. The fact is that bullish sentiment can last much longer than anyone expects.
However, Tesla has now managed to string together five consecutive profitable quarters. The next profitable quarter that Nio has will be its first.
There is some belief that Nio may turn profitable earlier than forecast. Bank of America (NYSE:BAC) in particular now forecasts Nio could be profitable some time in 2023, a year earlier than expected. But projecting profit three years out is an imperfect science.
The electric vehicle sector is going to be a significant story in 2021 and beyond. And China will be one of the main battlegrounds. That alone is a compelling argument to buy Nio stock.
If you believe the long-term narrative of Nio, then certainly buying the stock at around $40 today could wind up being a bargain.
But price is what you pay. Value is what you get. I can't tell you Nio stock has further to fall. Nor can I tell you when the air will come out of the EV bubble. But the first statement looks to be true. And the second statement seems likely to occur sooner rather than later.
Right now momentum appears to be with the bulls. If you're looking to buy Nio stock, I'd wait for volume to quiet down a little.