Read The Full Article On:Investorplace
After a scathing short seller's report and the founder's exit, it's amazing that some folks have the gumption to stand by Nikola (NASDAQ:NKLA). Yet, despite all of the obstacles, Nikola stock hasn't gone to zero as some skeptics predicted.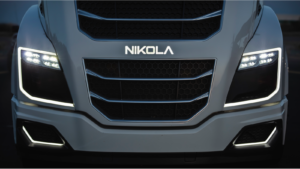 If you're reading this, then there's a pretty good chance that you're aware of the fraud allegations against Nikola. In September, analytic firm and short seller Hindenburg Research published a scathing report charging Nikola with "an intricate fraud built on dozens of lies over the course of its Founder and Executive Chairman Trevor Milton's career."
As you might expect, this provided fuel for Nikola's detractors. For instance, Citron Research tweeted, "Congrats to Hindenburg for exposing what appears to be a total fraud… [Nikola's] response warrants an SEC investigation to maintain integrity of EV mkt."
However, not everyone's lashing out at Nikola. In fact, there's an automotive giant who seems to be standing by this embattled electric vehicle start-up. Should Nikola's shareholders stand by the company as well, then?
A Closer Look at Nikola Stock
Nikola stock represents a true test of the "buy low, sell high" principle. Many traders claim that they want to see lower prices in their favorite stocks. Yet, when the share price actually comes down, they hesitate to take a long position.
When the Nikola stock price rocketed up to $93.99 in June, I could understand when value-focused investors would stay on the sidelines. As we now know in hindsight, Nikola shares weren't meant to reach $94 in the summer of 2020.
On Oct. 23, after the hype cooled off and the Hindenburg report sent Nikola stock investors reeling, the share price settled at around $22. So now, value-oriented investors must make a decision. Is it time to buy Nikola shares at this drastically reduced price?
That, dear reader, depends on whether you believe that there's a bright future for Nikola. At the very least, there's one mega-sized ally that evidently sees Nikola's value proposition, scandal and turmoil notwithstanding.
A Partnership Is Tested
Iconic American automotive manufacturer General Motors (NYSE:GM) doesn't need Nikola. Frankly, I'm sure that General Motors could benefit from distancing itself from Nikola and its associated problems.
Yet, even during the worst of times, General Motors has maintained its ties with Nikola. I suppose we could say that's admirable. But General Motors isn't a non-profit organization. Clearly, the automotive giant sees profit potential in Nikola.
To give you a refresher, in September General Motors announced plans to build versions of Nikola's electric truck, known as the Badger. This was like a seal of approval as it lent a sense of legitimacy to Nikola.
Then came the Hindenburg report, and there was no shortage of pundits on social media predicting that General Motors would cut all ties with Nikola.
No Fair-Weather Friend
Of course, the problem with predictions is that sometimes they don't come true. Much to the chagrin of the skeptics, General Motors President Mark Reuss recently declared that he's excited about working with Nikola.
Not only that, but Reuss added that he saw a "spectacular" opportunity to work with Nikola. Moreover, the talks between the two companies have been extended so that either General Motors or Nikola can terminate the partnership if it isn't finalized by Dec. 3.
This development caused a quick price spike in Nikola stock, but this isn't about short-term gains. Rather, it's about General Motors possibly continuing to work with Nikola.
The continuance of negotiations strongly suggests that General Motors views the electric truck market, and Nikola in particular, as holding great promise. This won't dissuade all of the doubters, but it's a potentially big win for Nikola stock holders.