Electric vehicles are quickly becoming not only the technology choice for eco-friendly customers but for customers across the entire market opening many new doors for innovation. With the popularization of EVs we've seen many start-ups with huge potential entering the market. However, the eBussy modular EV is the only EV that is configurable in up to 10 body styles.
The eBussy was developed by the German EV maker Electric Brands. In 2018 Electric Brands begin producing electric scooters but soon after decided to try its luck in making the most innovative electric vehicle in the world. According to the company, the eBussy body is able to be changed in just a few steps. The EV can be converted into a pickup truck, station wagon, minivan, or as a convertible.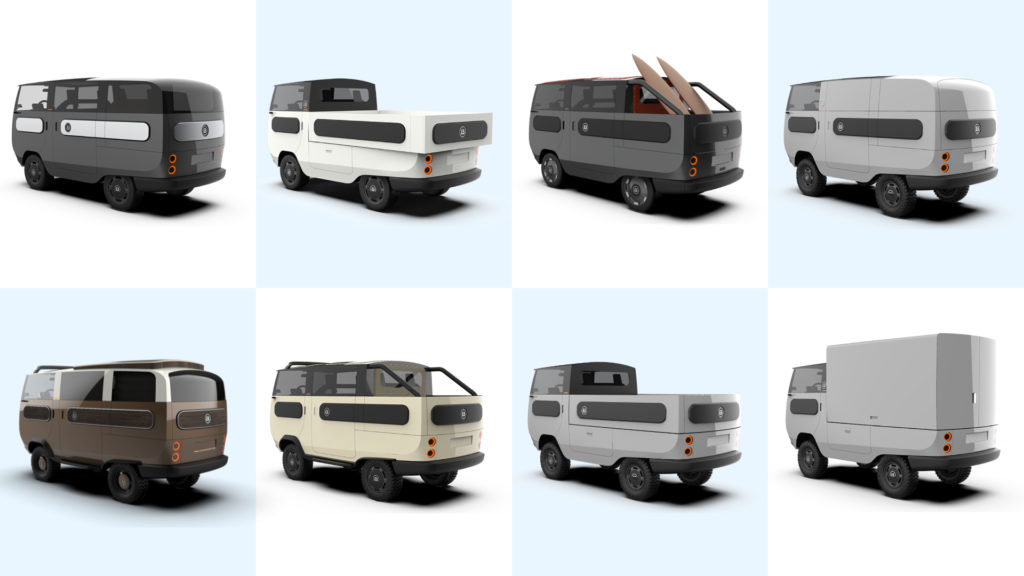 The modular EV is available in two chassis configurations, off-road and city, and has over 10 modular interchangeable body panels. Aside from that, the eBussy slightly resembles that of the Volkswagen Kombi van.
Although classified as compact, the eBussy is able to carry up to 2,200 pounds of cargo. Looking at its weight, it is as light as a subcompact weighing in at only 992 to 1,433 pounds without the battery pack.
The eBussy comes with a range of about 125 miles using a 10 kWh battery pack. When opting for the larger 30 kWh battery you'll see the range jump to around 373 miles. The eBussy comes equipped with four in-hub electric motors resulting in an output of a minimal 20 horsepower. However, the lack of horsepower is made up for with 737 pound-feet of torque.
In a unique feature the vehicles can accommodate both left and right-hand drivers using a standard drive-by-wire system. The driver simply moves the steering wheel across the dashboard to his or her preferred side. As far as maneuverability the eBussy is able to offer great traction in any weather conditions thanks to its standard all-wheel-drive and an all-wheel steering system.
Electric Brands is planning to debut the eBussy in Europe beginning early 2021 with a starting price of $18,273 (€15,800). There has been some speculation on whether or not it will make it to the U.S. but we'll have to wait and see.