A year after the presentation of the Sián, Lamborghini's first hybrid supercar, the brand has revealed its convertible version, the Sián Roadster. Like the closed variant, we are faced with a model whose main peculiarity is the use of a supercapacitor instead of a battery for the hybrid system.
Presented in Blu Uranus color in combination with wheels in Oro Electrum, the Lamborghini Sián Roadster gives yet another twist to the slow but inexorable electrification of the Italian manufacturer belonging to Volkswagen. According to the firm, the new Sián Roadster is directly inspired by the aesthetics of the legendary Countach of the 70s and 80s, which is evident in the triple riders who star behind.
However, the truth is that the Sián's angular and ornate lines remind us of recent creations by the Sant'Agata Bolognese firm such as Venom rather than classic models such as the Countach, the Devil, or the Bat. Despite this, they all have one thing in common: the characteristic wedge shape typical of the brand.
The model mounts a 6.5-liter V12 engine from the Aventador SVJ, capable of producing 785 hp. To this fuel, we would have to add an extra 34 hp from a 48-volt electric motor coupled to the gearbox. Total power is 819 hp, making the Sián the most powerful Lamborghini ever.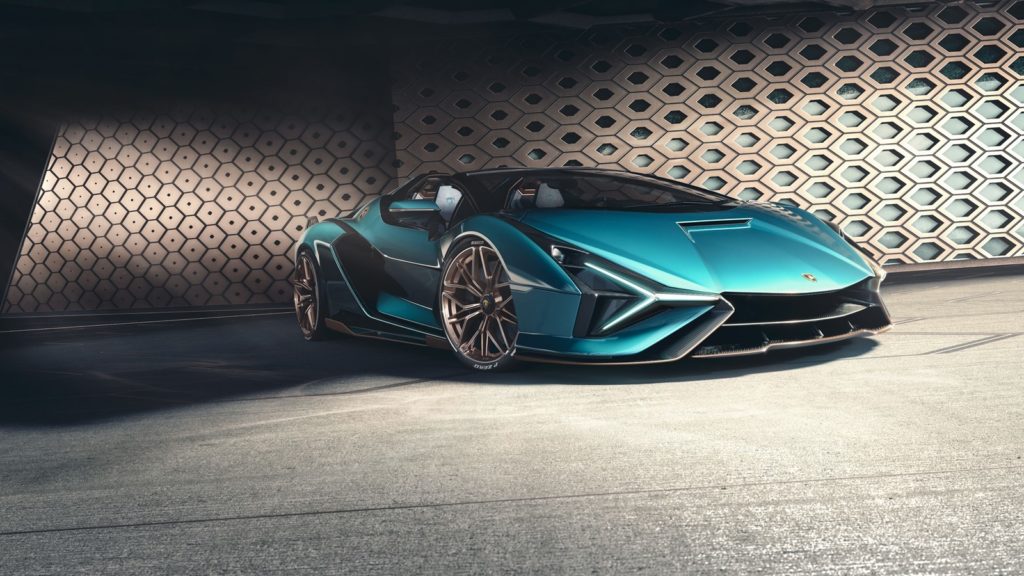 The supercapacitor used in the hybrid set can store up to 10 times more power than a battery and is also three times lighter. The electric motor supports the main drive to improve accelerations up to 80mph; from this speed, it disconnects.
Regenerative braking has been designed to charge the supercapacitor on each braking fully. Despite being a "simple" mild-hybrid, the Sián Roadster can travel in 100% electric mode at low speed. The Italian supercar announces a 0 to 60mph in 2.9 seconds (0.1 seconds more than the closed version), and a top speed of over 20mph. In total, 19 units will be manufactured, compared to 63 for the closed model.