Maybe you don't remember, but Porsche exhibited at Frankfurt Auto Show 2015 their idea of an all-electric car, the Mission E Concept. They said that this sedan would be available in 2020.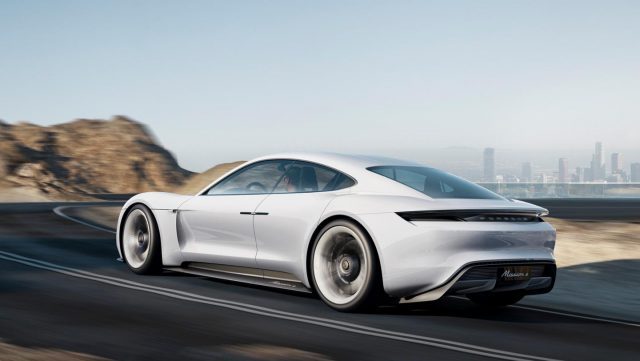 Today we get to see the real deal not just a concept. The website auto evolution managed to take some photos of a Porsche vehicle near the Arctic Circle riding in the snow. Of course, the car had some camouflage to look like a Panamera, but that was not enough to fool a trained eye. This car is taller than a Panamera. The intake of the car is sealed in the pictures, and the most obvious tell that the car has some electric warning signs on the vehicle body. Another good indicator is the port on top of the front wheel, maybe a port for charging.
The concept car has a lot of characteristics of a coupe, but it has four doors. At this point, it is impossible to know if the production model is a sedan or will be more similar to a Panamera. Who knows? Maybe the car will be a all electric Panamera.
The Mission E should come with a lot of crazy good specs. The Concept has two motors, one in front another in the rear. Together they generate 600 hp. The car can do 0 to 62 mph in 3.5 seconds and get to 124mph in whopping 12 seconds. If that was not enough, the battery pack can deliver more than 300 miles per charge.
Take a look at the pictures taken in Arctic Circle by the Auto Evolution website: